strange bedfellows
chilling @ home for a bit: arkitip-peter southerland-undftd-adidas jersey+supreme flight pants
Weather's been getting better lately, must be the heavy rainfall and wind changes fotunately. Decided to get a day away from work, (1) to take a much needed rest, (2) to mess with those skivvers at work taking advantage of my industry (ha! lets see how they get their work done w/o me)
*
SURRENDER - THE BOYS ARE BACK
Can't keep the good guys down. Go say a big "whut up" to the boys (and gals) @
Surrender
when they reopen at new location, far from the madding crown, tomorrow.
L1 - gallery, L2 - shop
Sat: new season HP, HP+, Visvim, NH
Sun: OF (hype boys keep away)
*
Extreme makeover: Monopoly
I loved
Monopoly
during my youngish years, prolly one of the 1st few games that taught me counting skills, ownership (heh) and why its never good to go to jail (heh heh). I also had a lucky token piece and that was the old trusted shoe.
Now thats about to change with the new
Monopoly Here & Now
: what if the game was invented today?

Not only were the names and places updated, the tokens too!
You get the Toyota Prius, Mac's French Fries, Labrdoodle, Motorola RAZR mobile, laptop and check out what is in place of the classic ol' shoe:
New Balance
kicks!!!
Looks like its the
NB992
A very apt heritage shoe!
What better way to celebrate your centennial than have America's favorite boardgame cement your place in history?
New Balance Shoe - MONOPOLY: Here & Now is giving the old shoe the boot and allowing players to take strides around the board with a high performance athletic shoe by New Balance. Known for their specialized footwear, as well as their strong heritage in running, New Balance continues to focus on manufacturing innovative shoes for athletes of all ages and abilities and is the only athletic brand currently producing shoes in the U.S.A.
*
unwearable, but sick sick custom
This would be awesome for Halloween, check out these lovely Vans customs by
Six Letter Word
for
Camouflage
.
Customs is a SixLetterWord...getit?
*
LDV at the V&A
If you're in London, go check out the Leonardo da Vinci exhibit at the
V&A
, running through to Jan 2007.
For those that can't quite make it there, peep the amazing ingenuity of LDV's many inventions and how the illustrations
come alive through the use of modern animation
*
babe of the day: Crissy Moran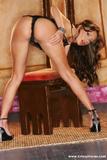 Sizzling hot
Laters