busy
Been busy of late. First was the in-camp training, being back with my buddies, the usual jabs about our weight, comparing my lowly wages against some truly astronomical ones (i swear i'm gonna put my future kids in business school), talking about the good ol' days...the usual shit. The army's really changed alot since my days (gosh, really feel old) The pic of the canned coffee and M&M's? Thats part of my combat rations(!), fo'real! i ain't kidding
I've never dread going back camp, i just take it as a get-together session/getaway from work kind of thing. Call me a freak or sadist, i quite enjoy the military, ha! The shooting-the-shit sessions to real-life shoot-ups pretty much taught me everything i needed to know about life when i was a scrawny 18 year-old, and i do appreciate that.
Well, good things come to end and i had to get back to the real world (and tons of work in the office) soon enough. I was also nursing a bad case of sunburn...the price to pay for bronze skin! Thankfully i had some lovely mail to get by. (Yet) Another camo tee (i seriously love camo), my precious street bible from the awesome dudes at
streetwear today
, and a quirky little book from my pal Sal.
Also got a nice gift for V-day waiting for me to unwrap, some nice tartans! I don't know how i do it, but i seem to run through wallets real quick, just as i go through the $$ in my bank account...hmmm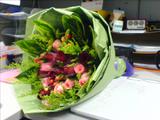 Some lovely bouquets for Ting and Yanz
*******
Managed to pop out the odd Undercover tee to match my new tan as i went to catch
Brokeback Mountain
. Lovely little tale by Lee Ang, coupling the awesome scenes with poignant touches. It was pretty touching, especially the end where Jack's and Ennis' shirt entwined with each other. Go catch it to understand all the talk before the Oscars!
*******
Chick flicks & apparel
Gals' apparel don't get mentioned enough here,
so go check out
Hellz Bellz
for some nice designs:

Absolutely love the "Salaam" print!
Not to forget our lovely local ladies @
FruFru & Tigerlily
. A nice selection of apparel, accessories and bags
Pity the necklaces are all gone, but hit them back for more!
Last link, for some friends downunder:
Young Lover Clothing
are the "hearbeat of the pavement, the gum on your sneakers". Some nice looks there, promising stuff.
Tell them you heard from me yeah?
*******
renaissance
A little colder-than-expected saturday brought out this "masterpiece" of a L/S tee. I absolutely love the reworking of the classic Stussy Lion.
On the same topic, check out Resonate's rework of the Stussy Rasta all-over print:
whoa