a pretty hefty treasure haul lately, a really nice mix if i may say so myself
stuff i liked, sourced, and hunted down... like the good ol' days

adidas x porter yoshida nizza hi
sticking to design rule #1 of keeping it real simple, its amazing it waited so long for this release to drop. clean & simple



moreaboutless MAL collaboration oxford shirt
w/ goodenough, fc real bristol, supreme and gravis
talk about clean and simple, this keeper captures HF and gang's style of collaborative "announcement": to proudly wear every brotherhood label on their sleeve. such rarity to find it deadstock.

...and a couple of "newbies"


nowhere "last orgy 2"
tracked down the college logo print finally
will i bear to wear it though? hmmm...



supreme "new world order"
this one's not that new, but really liked it coz of the theme
i remember seeing a pic of the same poster print in Tet's office, could it be an unofficial collab? :)



supreme x damien hirst tee
got this to complement the deck i got (yeah, in case you didn't know all these years, i'm a completist..haha)
---
RANDOMZ
i'm likin' these: Stussy XXX
i can just imagine the multitude of word/font play on triple x alone...heh

who doesn't love a jamhomemade ring? affording it is the headache, haha.
also love how Haze is down for the anniversary collection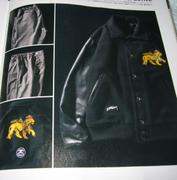 can't get enough of stussy shades, but i'm eyeing the chrono if my wallet's ever near the mark


theres never enough denim in the world, all street heads know this...and vintage treated levis? keep 'em comin'! oh yeah, if someone spots the pair of chino's with the plaid lining, pls help me cop one? you know where to find me
nothing like retail therapy to start the year or week, cheers
NSFW section
didn't post this last month, but in case you need some help with resolutions...Vikki Blows may be of help