stoner days
Been a strange weeks of sorts. Can't seem to really get into the groove of things. Head's been a little messed with a bad fever in the early hours of Monday morn. Not sure if its related, but i've been, like half a step behind at work as well. Think theres only one way to cure this: not working...LOL
Popped by the airshow. Its been ages since i last went to the event. I finally understood why, once i arrived at the new site for this year's airshow. The "trade days" are absoulute heaven compared to the "public days": no long queues, free food and drinks, taking your time to soak in the sights and sounds...
And its even coler when you get processed through security in 5minutes, much to the annoyance of folks who arrived ONE hour earlier.. heh heh (gotta gimme a break, i've only got these little luxuries in life to gloat on, hahaha)
Just in time for our local lads in F16C's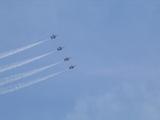 Foursomes in formation while the 2 soloists conduct some hair-raising criss-crossing
The other mates soon came back to form a belated V-day wish of sorts... awww...
too bad about the ugly brollies up front, hahaha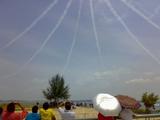 and the final "bomb-blast"...pretty spectacular stuff
And they make their exit with a spectaular inter-twining manuever...cool
Theres tons of shutterbugs out there so go get your aviation fix from flickr sites etc. I'm gonna get myself a good cam (provided i can prevent myself from spending other stuff first) in future, haha
*
maildrop: Visvim Kooning
Came home to a nice surprise when the Koonings get dropped off. Can't pass up a good deal, 'specially when its deadstock. Wear it with dirty torn jeans? skinnies? formal? yup, versatile
*******
Zoo knows...
Ad for upcoming Jenna J collection
Zoo York reads minds...how else will it explain that they know what i'll do with a Jenna deck?!
*
Burton messenger
Thinking of getting a pack, either a messenger-style or (yet) another daypack. This wool messenger looks pretty pair
Via
*
Money Clothing swag bag and belt
Speaking of bags, this is one literal money bag. Seriously what makes a premium leather bag worth 799quid? Gotta be lined with money i hear ya say? Yeap!
Not forgetting 18carat gold zips, knick knacks and what nots, you better hook this up to yourself real tight
via
Money Clothing
*
headporterplus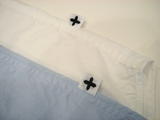 Ohh, i love this roll-up l/s shirt by hpp, just perfect!
*
unrivaled accessories
I like the leather ring.. but not feeling the tie (not sure how to wear it either)
*
uniform experiment
Damn, this shirt is CLEAN... off the hook hotness (peep the deatiling in 2nd pic!)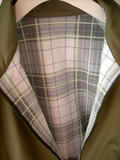 So is this blousen...
but argh, the price is really killin' me wallet...
*
G1950 x Porter

G1950 pops some patent leather goods with Porter...i like the perforation cutouts.
*
new Visvim footwear
Couple of new ones dropping soon: Virgil toe-folk thats kinda like the Buckminster/Creeper and the "stan-smith-ish" Foley Folk
*
NB x Hectic x Stussy CM670
Hookup for these anyone?
Btw, as S2C-headz know, this is the 2nd 670 collab. 3rd and 4th collab will be up VERY shortly, keep your eyes peeled! =)
*
nike x uno caol - 10AC
new season "10AC" drops!
The Zoom Talache drops in both Mid and Low cuts!
I'm feeling the jackets (how can you fail with black/white?) and the pack looks good. Hmmm, should i?
*
Santastic x JustForKicks DVD set
One of sneaker-otaku's fave manga artist, Santa Inoue released a Tee set for the iconic dvd Just For Kicks.
Go get it here
*
Bell & Ross

Oh my, this one is a biggie. If i just drink plain water everday, i might save up enough lunch money for one of these
B&R babies
...thats if the other 199 peeps don't snap them up first! Limited edition BR-1/BR-3 models dropping very soon in a store/dealer near you
its an open plea: anyone out there can get me a discount on BR-1/3's? please?
*******
RANDOMZfunny Scotts
- pure coincidence on the next 2 postings
Scott Adams fights for the common man
The master of Dilbert guns down the corporate bigwig bully
peep Dilbert daily here
Scott Johnson makes me laugh daily
the guy's a genius...this one's gonna be my wallpaper
Go find him
*
absolut au naturel
Absolut's new ad has none of the iconic bottle shape...in its place is one of the most recognisable body parts... ha
go natural!
*
3191 - a year of evenings
One of my fave sites to check out in 2007 is
Stephenie and Mav's 3191visualblog
. The 2 girls live 3191 miles apart and each one takes a photo everyday, not knowing what the other has taken. They've moved on to a Year of Evenings for 2008! Lovely!!!
And if you loved the 2007 edition, they've
published a book!
*******
LADIES
Kate Beckinsale for Esquire
Ohh... so hot
Jarah Mariano for SI
Absolutely loved her in the Vic Secrets catalog, and now she's in SI! woohoo!
Laters