classics
couple of classic pickups early in the week...

w)taps "lightning bolt" hoodie
Tet somehow doesn't size 'em like he used to. Really hope he retro's the bolt designs for the upcoming exhibition @ blackflag. In any case, the bolt's fully-embroidered on the sweater's front - dopeness

bathing ape classics "ape-head" T
Nigo has been quietly releasing plenty of his old screen prints amid all the garish neon-dayglow-terriyaki-kanye-80s-hipness. None is more recognisable than the ape-head huge print, still remember the days of just yearning to own 1 of 'em. So glad its done on the US-based "XL" sizing as well, no more deep breaths! hahaha

john smedley for headporterplus
Been fiending for this collab for a long while now, always missing out coz its either the wrong size, or put off by the astronomical price tag. Thanks to huge efforts of trawling, finally managed to not let this gem slip from my grasp again. Pure quality construction and materials from the incomparable John Smedley, the made in UK sweat-shirt is so soft and packable-perfect for travels
nike x
wieden+kennedy
free trail-air trainer1-dunk hybrid
Released to jointly celebrate both companies' 25th anniversaries, not much have been said and shown when these lovelies dropped in '07. 6 colorways representing W+K's global offices with a production run of around 1000pairs, these were friends n fam ish. Mostly ignored by hype-dom, i managed to snag the white (tokyo) edition. Lots of details to make this a special collectable

Nubuck upper with denim toe-box, "XXV" detail on trainer strap


Perforated heel tab with embossed "W+K" and even on the Free Trail outsole to leave your mark


Unique prints on the left and right insole for the different global pairs, featuring words by Mark Parker and Dan Wieden; "1997" and "TYO" on the tongue tabs to commemorate the Tokyo office
---
Had to make a quick hop back to Brisbane midweek. This time, i really had no time for any sights. Not that i wanted to anyway, i was too shagged out to do anything. Hopped onto a nite flight, had something like 2.5hrs of disrupted sleep, touched down cuppucino and its straight hot-house work till late afternoon for a forgotten lunch. Little wonder i was running a fever and flu till late nite.
Popped out for some Subway 'wiches and gallons of orange juice to up the vitamin C. 'eff brand synergy with ACRonym jkt|vintage bape T|vis eiger shorts|gucci sandals
Thankfully i recovered well enough to exit from the hole that is Bris (coined not by me but aussie 78, ha)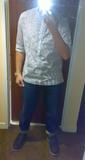 uniqlo plokhov shirt|lvc 201xx|vis namjun|
Met a cute stewardess on the return flight to perk up my mood (among others) haha, just glad to be back
Couple of knick-knacks to get rid of irritating pocket change, hey, at least it beats buying overpriced gum and chocs. Don't fall for the airport tourist traps kiddies, heh
stroll around town and chill lunch with the gf today...
vis kind of day: weller polo|01 crush|1950 newton
---
DROPZ
unrivaled
The new digs look real good
i love the 2-tone hoodies, and while i'm not sure of a cardigan on me, i'm tempted to try...
mountain and drizzler jackets with nicebutton details
and of course i need some button-downs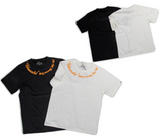 collar and guitar prints ala gdeh? hey, i'm not complaining.. haha
*******
wacko maria
nice photo prints..."smoke" tees :)
*******
w)taps
New taps season, inspired by protopunk rocknroll, with Heartbreakers' L.A.M.F (like a "mofo") fonts and imagery. I quite like the pieces, but i worry about the sizing...sighs
OK, now go ahead and look it up kids
*******
sophnet
coolmax shirt is a must; fragment cushion maybe not
sophnet x converse? must cop!
*******
uniform experiment
i wonder if there is a term for fetish for stripes, how hot is that red/white/blue sleeve?
the lightning tie is little too loud for me, but that polka dot is calling my name...
UE whiteline
I quite like thise offshoot of UE, i feel its much like RRL from the mainline
Anyone with more pics/info?
*******
goodenough
hidden logo for the zip hoodies, and new gdeh/tiger camo pants! looks good!
*******
CDG x undercover
cute CDGU tee print for Valentine's Day
*******
visvim
yet more drops from vis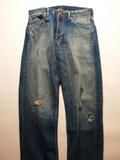 new damaged fluxus denim...argh, how i wish i could afford
5 nation tees... not likely you'll find any on the shelves in hype-land, but a size L if u do, pls!
*******
New Balance H574J x atmos x X-Girl
X-Girl collab footwear always does it for me, sad thing is, the size run means i can't fit in the largest pair. bummer :(
---
RANDOMZ
The Graduate:Helena Christenson seduces Chuck Bass (gossip girls)...ooh mama
*
Holly Valance Arena magazine outtakes: yum!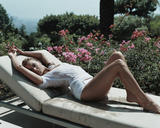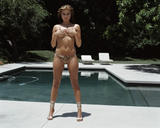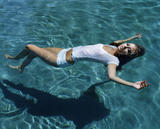 hope your broadband is doing fine with the pic-heavy post... more laters! seeya