electriccottage|headporterplus|nikexfragement
Caught
Angels & Demons
as well as
Wolverine
over the weekend. Thought that the Ron Howard flick was pretty ok for a no-brainer thriller, felt there wasn't as much layers and intrigue as DaVinci Code. But Tom Hanks sure was value for money ('bout 25mil per flick last i heard?), you'd almost think he was to play any role in the movie he appears in. Wolverine was so-so, even as a popcorn-fodder, you get a feeling the script-writer tried to balance too many aspects/characters (the comic-verse is too varied and complex to tell in 2hours) with too many constraints (much of Wolvie's background was already revealed in X1 & X2 anyways). Oh well, i'm just glad to be back in the midst of the movie-going crowd, i think its all gonna build up to the eventual blockbuster bang of "Megan Fox and the Transformers"..yay
MAILDROPZ

Nike x Uniform Experiment Tennis Classic
Last pair, must cop, what else can i say? Big ups to the 78monster for the hook up. Excellent complement to the fragment collab, this is one heck of a blue suede shoe. don't you just love well-laced shoes? left-over-right and right-over-left on the correct pairs? (if you know what i mean, you're obsessed too haha)
BTW, doesn't the UE logo resemble the "cross keys" of Ewan McGregor in Angels&Demons? ;)

New Balance RealMadHectic MT580 15th
Part of the nippon hook up, i almost forgot about this pair. MadHectic always manages t make hot pink match in any footwear colorway. ACG-steez, no? dopeness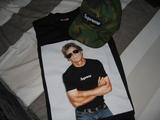 skip to my lou...
Just in time for summer, but can i bear to wear my Lou? sighs, dilemma of a t-shirt freak LOL. Is it me, or does the new box cap have a shorter bill, ala cycling race caps?

something old, something new, something green ape camo, something blue
Some ebay haul: ape x stash tee, bape g-shock, ape camo cap custom by Neil (bathing ape print font removed!), brooks bro black fleece s/s shirt(love the button detail)

bathing ape x stash
This was a nice find, an almost forgotten print from yester-year. Stash and his Subware imprint collabs with the ape general. Besides the print, i'm stoked by the vintage sleeve tab
---
DROPZ
(blank) are so Summer
Unrivaled pocket tees


and of course you can't turn down a LetItRide tee!
Soph.net denim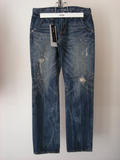 I'm not sure if i can pull off a full-on denim look, but i'll only do it with this set. hmm, should i, shouldn't i?
Uniform Experiment polos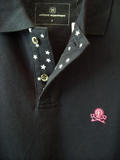 its all in the details for UE
FCRB polos


how is it that Hirofumi gets the stripes right everytime?
Goodenough shirts


Military shirt is a maybe, but i'm very interested in the un-matching striped shirt!
Goodenough print tees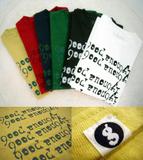 some Dan Brown ambigram inspiration?


HF's internet obssession reveals itself


interesting "engineer" pocket T and multi-camo shorts
---
RANDOMZ
hotness is when you can wear whatever you like and still be smokin'
huge celebrity shades, cutesy pink undies, licking luscious lips... hotdammit!
off to dreamland...laters!