*poof* like magic
What is this? Could it be true? Clear skies?
Visibility under 1K to this morning's 5K? Maybe we collectively huff n' puffed our way out of the haze situation? Or could it be the silent wishes for it to disappear completely? If its the latter, cancel my appointmenst, i should be expecting Jessica Alba for dinner and stayover later...
*
terry richardson
He's controversial, he's a genius, and he knows how to get you and your loins' attention.
Terry
gets it going again for Lee jeans

Terry gets the babes everytime!
via flickr
One of the earliest labels to use Terry's images,
Sisley
continues for their latest collection.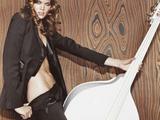 via theApt
*
Undercover SS07
I don't post enough ladies wear, so here's more from
Undercover's Paris catwalk
. A lovely breakaway from the harsh S&M-militaristic look of last season, this one is prtty sweet, yet with the characteristic Undercover overtones: see-thru "undercover" intent; ladies in male form (lots of menswear inpired clothing); animalistic beading; and out-of-this-world accesories (check out the glove-attached bags - truly a handbag, gettit?)
Lots of hidden gems
*
stussy x nike
It used to be like ONE stussy x nike collabo every summer, then maybe twice a year for the holiday season (we'll call it a holiday exclusive)...
Seriously, i don't expect 25 collabo's in a year, guys! Not even if its your XXV anniversary!
So last week, the hype blogs and euro sites went to town with the Black/Purple Dunk Hi and Free trainer pix and news. I thought, thats it, prob the last one for the year huh?
I knew Stussy wouldn't let up, not that easy buddy. So here's like 5 colors of Dunk Hi's, 2 colors of Free's and a Trainer Dunk Low?!?!
I'm just waiting for shawn himself to call up my mobile for my credit card details
Wait, if you were expecting photos, nah not this time. Not coz i'm later than the hype blogs, but you could just
see and read the real deal at BGHD
What i am posting next is an open question: so has Mr "SubnetMask" Cool Dude been sporting the Stussy Trainers all along?

somebody hook me up pls
*
maildrop
This package greeted me during lunch. What could it be?
Turns out to be S2C bombs:
Electric Cottage x Shaw Stussy
Curiously, i always thought of it as an EC print on a Stussy blank. I'm so glad i'm wrong. Shawn Stussy sig on an EC blank is way-way off the charts
Stussy x Futura Labs for Fukuoka Chapter 10yr Anni
Stussy Labs y'all, no joke. The Atom says it all, 'nuff said. Big upz to
TH
!
*
connect the dots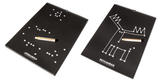 Dadadum
has a cool Gregory calendar. Each month comes with seemingly random spots that you link up by the number/date to get a surprise pic before the next month!
Ain't it cute?
I know what i'm getting for Chrissy this year!