kaleidoscope
Promised ya mag pics, ain't gonna disappoint. Gone are the days of "56Kbps beware" warnings (LOL) thank god for broadband and picture hosts...
Boon + Cooltrans
Both mags been banging away with the good stuff lately. Peep the camo revolution through the labels:
Pic1 (cw): stussy caps; sophnet cushions; NB574 realtree & Nike AF1 desert camo; Luminox SEAL watch; and the impressive sophnet Alive pack. Pic2: Bapex camo(!)
*
FCRB
Posted the FCRB collection pics a while back, this here's with real models. "Really" good
*
street snap: w)taps
The usual street snap with a twist, shows what the dedicated taps fans are wearing:
and finally a pic to debunk "deepsix/milspex"s comment that gaijin's have no place in streetwear mags:
But seriously, Sam should give some of these dudes a run for their money =)
*
w)taps 06 Ex.02
I posted the pics of the collection some time back, heres a more detailed look of the 06 w)taps collection.
As "skinner" might say,
poison
!!! hahaha
*
Nike
A group shot of the recent Nike Free 5.0 collab by Atmos. sure black/pink snakes win hands down, but how hot is that Ultraman shoebox?!
The "heritage" line is coming hard and fast. You would've seen them modelled on Michael Lau's 106 figures earlier. Here are the retro kicks, added a lovely shot of the vintage ads for the headz out there.
*
Visvim x Soph
I'm in love already. 2 shots of the same collaboration just to give you a clearer peek of the slip on:
I love the toe cap detailing
ala
Buckminster!
*
RSNT
Nope the photo shoot wasn't done in haze-covered SG or Indo, just the styling for "stillness in a crowd" theme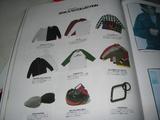 Some choice pieces, but i think only the L/S and S/S tees are possible for me, esp in my kind of weather.
And being the HF-whore that i am, it was cherry on the cake to have these RSNT/GDEH laceplates to rock:
*
Ritey, hope you have fun clicking the pics as much as i liked posting them
Last one for ya on this beer-boozing Saturday nite:
YEAH!