undrkvr
Everybody understands or at least appreciates great design...with the meeting point at some level, degree or another. The greatest joy any designer could have will be that someone understands his/her work. And the most fun a fan-boy could have is that his fanatism is recognized and understood.
So i met this kid in the elevator the other day. He couldn't have been more than 12, and there he was, looking curiously at my tee. He had the type of inquisitive look on his face and thus i extended the invitation by cocking my head to the side and raising my brows. He looked up at me and asked:
"That isn't Batman right? Why would his face be green? Is it the Incredible Hulk in disguise as Batman, like,
undercover
?
+
I tell you, kids these days grow up real quick. Sure as hell made my day though.
*******
World Tour part 2
And the onslaught continues with an impressive line-up...
Bulldog; Andy Jenkins, Rostarr, Ben Drury and, get this, Jim Phillips
(!!!)
You know it's good shit when you get Phillips...will we see screaming hands on Stussy anytime soon!?
*******
Munch
I can't seem to stop munching on tidbits at work, i wonder why...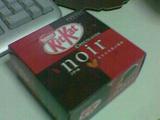 BTW, that KitKat chocolatier Noir is excellent, even recommended by HF (hehe)
*******
BGHD
new shop, lots of new stuff to expect
can't wait
*******
random hot stuff
Cindy-the-mom is still blazin' hot
Ms Carey looking very bodacious (i don't think i've used that word before) in her new vid featuring Snoop Dogg. Sizzling!
Speaking of sizzling, Maggie Q will be on the silver screens for M:I 3 this summer. Go swoon
Flask x Spraycan to escape the boys in blue? awesome! Courtesy of the good people from Wooster