Oh, and more than a couple of times for sure
Been hella busy that i've forgotten to post these goodies i got in the mail
First up, my grails!
These boots are made for apes...
Putting the 2 together is apt, from box to footwear design, they just show how much the brand (or the man) is in control even in collaborative work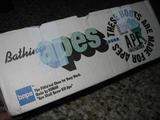 Even though i truly believe folks who send out shoes without double boxing or wrapping should be shot, i don't really give a damn as soon i opened them babies. These Bathing Ape Manhunts may have seen a couple of wear before, but hey, i'm not picky. I love the faint undercover-like manhunt imprint on the nylon, don;t you?
Can't wait to pair them with stiff raw selvedge denim and vintage tee or flannel shirt
And what did i tell you about the box design? Gotta respect for someone who takes the time to adorn the simple shoe box. Its designed like the Hasbro toy boxes of old, and yep, i agree its definitely a toy for the child in me, haha
1 of 500
Oh what has not been said of the adidas x Bathing Ape collaboration? It has personal relevance since its what got me into blogging in the first place. Gotta admit it really feels full circle when i opened up the package (yes, at least this was cocooned in brown wrapping paper). I totally remembered the fun the gf and myself shared with my buddy Ibby on the night of the hyperstrike launch. Disappointed at not being to cop a pair of the Hi's, i promised myself to snag one of them if i ever saw it for a good price
Compared to the Superstar model, the Skate-Hi's were known for being ultra-plain in comparison to the low-cut camo-adorned/leather-embossed companion
Imagine the shivers as i touched the deadstock pair
Dressed in premium leather and luxurious suede, this was what i yearned for years back, and still do!
Forget what they print on the heel, its definitely less than 500 pair allocation for sure.
Now i get to be matchy-mcpherson with my girl and her pairs of ape superstars! hahaha
big in japan
Yet another piece of history dropped in the mail. Of all the colorways in the palette, the lack of color, or white is definitely huge in Japan.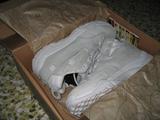 Gravis Rival x Goodenough
Looking more of an off-white due to the suede material, this chunky pair is a nice touch to the collection. Gravis gets lots of respect from me in terms of integrity. They've never diverged from what they set out to do. They've always been a urban footwear company, with emphasis on comfort and user-appeal. Not an atheletic company trying to do street, or vice versa. Perhaps its this viewpoint that appeals to HF to tie up Goodenough with Gravis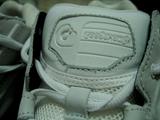 Rarity? I don't really know or care. I know its gonna be dope with vintage denim or BDU's
football is beautiful
Folks who have followed this blog long enough will know i'm a tee freak. So its no surprise i got yet another T for the collection. Couldn't believe my luck to spot this Soph.Net x Nexus7 print, featuring perennial fave Angie!
and whats so football about her? check out the teensy little "earring"...LOL
...like boys...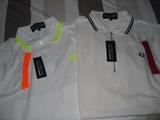 yes i'm late, but i still love these polo shirts from the Fred Perry x Comme des Garcons collab. i don't care if its "outdated", but white polos will never be out of fashion
---
RANDOMZ
One of the main reasons (besides work) i haven't been blogging regularly
I didn't just see a human fish, i saw for the first time a superhero called The Olympian.
Seriously, 1 hundredths of a second? Geez
The man (who will be called God) truly deserves his 8 Gold medals and 7 world records in one meet
Anna K for Maxim
don't you love summer?
Alba watch
i still heart Jessica
stay nippy
Lily Allen shows Jess how to do it
first the left and then the right...
laters!