Jeez, we hit 130
Here's the view from my window last nite:
The
haze
has grown incredibly bad lately. We're all hard done by the wind direction, for sure, but WHAT THE FUCK is happening in INDO and M'SIA?!?!
All we can do is keep showing satellite images and data, but because of political/democratical/illogical/non-environmental reasons we can't tell off our neighbours what they are doing to us?!?!
"It's a cat and mouse kind of situation. They might be enforcing some measures in a certain location, but in some other part of the country, there are still people clearing land and causing these fires,"
ridiculous
Now everyone will be staying home, blasting up the A/C, use up more energy and fuel, and inadvertently cause more harm while
somebody
, in
somewhere
, can't for the bleddy sakes, govern their country and it's fine? sheesh
---
swindle
Swindle magazine
issue 8 drops. Check out
Shep's
interview with
Banksy
. Should be good.
*
WDYW
Can't believe how long its been in storage. Peep
skinner's
hand-pulled "celebrity posterity" tee. The dude's been in hibernation for far too long man. yo, skinner, holla back!
Also pulled on the Stussy x Masterpiece "lions of juddah" L/S tee for a jaunt around town.
The shops have been miserable lately, but thank god for cute gals. I love people watching =)
*
Stussy x Conor O'Brien "Westside" exhibition in AU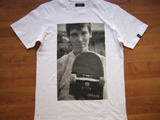 Dudes down under have a treat over the weekend with this
photo exhibition
*
Medicom Beams 30th x Jim Phillips Screaming Leg
Can't believe
Beams
is 30. Check out the Screaming Leg vinyl from Rock poster god
Jim Phillips
. If you don't know Jim and his Screaming Hand, you gotta
see more
from this Golden Age veteran.
*
Vehicle
Yeah, so
Empire
bought out Vehicle Skateboard, but them dudes still got some nice designs out for
Fall 06
:
*
Proper
Proper
updats with a nice Harris Tweed footscape and snakeskin Americana's
*
Audi R8
aka: i just crap my pants
OK, compose yourselves. The video presentation is EVEN cooler,
check it out
And if the roar of the R8 doesn't get to you, you can tune it out with this awesome custom fitted sound system from (get this)... Bang & Olufsen!!!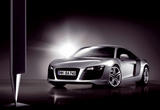 via
sybarites
*
Puma x Marcel Wanders
Interesting news: "Puma is set to team up with world renowned Dutch designer Marcel Wanders"
Set to be unveiled at the Tokyo Design Week Oct 31st, followed by New york and Amsterdam. Release date will be Spring '07
Read
here about the news
and
here about the man
*
sole survivor
Nice write up
on collector Bryan Laroche, his collection and sneaker scene
Dreaming of engine roars and B&O sounds...
till laters, y'all