...it's probably the only thought going through my mind as i was packing my backpack before the trip. "tons of work if i go, but tons of work if i don't go, what the hell..."
Like my bro says, Tokyo's your Mecca, you've got get there. And so i went...
Not much city scape pics this time round, cos it was raining and i was lost in the labyrinth that is the Shinjuku underground station.
Seriously, 3 buildings of Isetan: a solitary 7-storey heaven for menswear, and even 1 building of food joints just to cater for hungry customers; humongous Takashimaya and the behemoth Tokyu Hands. Not discounting Lumine Est, Odakyo and other malls just within walking distance!
Also, most of the time i was lugging stuff our friends were asking us to get, knickknacks and what-nots...
Wanted so much to plod around in the rain, but had to think of the missus, so scratch that idea. Maybe next time, heh
Flight wasn't that charming, then again, i've been spoilt too much on my duty travels, haha. And folks, always choose the Narita express if you need a rail transport to the hotel from the airport with luggage. Spend a little more on reserve seating and comfort (cheaper than taxi and limo bus) and save on hassle of squeezing with the never-ending crowd who'll more than tsk-tsk at your luggage taking precious cabin space.
And of course i did the next touristy thing: Disney Tokyo!

ACRonym|wtaps "henson"|LVC|Visvim


Really felt like a kid again...except kids needn't pay for all the little cutesy stuff...argh..hahaha


don't you just love the variety of kitkats? i mean, sweet potato flavor?!? awesomeness!


ACRonym|GDEH outside Bapexclusive Aoyama
---
PICK UPZ
aka "buttons"
Somehow i've been more into button downs these days...

Bape Classic stripes|Visvim Talbot


Supreme APC|Ape charms
Couldn't resist getting something from the Bape Classics range while at Bapexclusive.
Wouldn't have let go of the classic snowboard jacket, but for practicality and safety of my wallet, i opted for the safer dress shirt instead. And while i can't afford the Fendi x Bape handphone charm like my friend Dave, a red-checked one isn't that bad :) The silver chrome Milo charm is a bonus find, still trying to find some place to put it so i don't lose it!
My mate 78's been warning me about the "hospitality" at FIL, but Kazuya's been a great help at the store. So much so i was tempted into buying the chambray shirt, haha... a pretty casual shirt for sure, but i really like the fit and cut at the sleeves. Next time, i'm gunning for the Foleys, i promise.. ha

Rocksteady moneyclip/cardcase
Copped this at Blackflag. Been wanting this ever since its release. So subtle, yet posh, so utilitarian yet unique...all in the details.
---
121209
...waiting for the missus in the fitting room, and spotted the huge mirror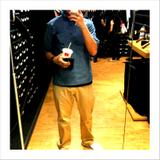 FCRB|basecontrol|headporterplus|nike footscapewoven|oakley koston
and more buttons...
Managed to snag the last remaining +J white oxford from the new Uniqlo store. +J hanger was optional, not intentional, but very much appreciated...hahhaha
I seriously can't understand the folks all queueing and fighting for the plain run-of-the-mill Uniqlo stuff, and giving the +J a miss... sighs, oh well, less for them, more for me :)
Its back to the daily grind for me, already wishing for the next break i get.