2 by 2
Woke up with a sore throat, result of my buddy's wedding last nite. Chinese weddings, long throaty toasts, Martel, JD's, XO's, beer and red wine do not mix well...but they sure create a hell of a fun time. Can't remember a better time so far this year
Decided to ditch the laces on the Buckminster Cap's, the original laces were too sneaker-ish and i can't seem to find the right dress-shoe laces to do them up. Thank god Visvim's have elastic straps on the tongue to wear as a slip on.
Its the shopping season yet again, and tons of blogs have gift ideas. Put up a couple for ya peeps...
Banksy
Year end's always remind me to save for the next...These piggies are pretty cute, LOL...
mini piggy
and
folksy piggy
*
Hoot!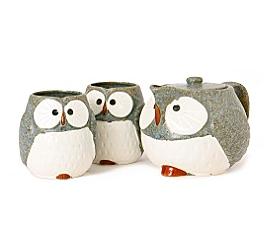 I can't take my eyes off these owls when i saw them! Too-cool Owling sake ware from
Anthropologie
*
supergran
Innocent drinks
in UK comes up with these itty bitty bottle knits for
a good cause,
collect 'em all!
*
NB leftovers...city attacks?!
In a nod to the reverse-color co.jp city attacks of old, NB comes up with a couple of gems. Those wheats won't sit for long in Jap shelves, but the green/white/black is inexplicably calling out to me.
*
Spidey 3 city attack?
Spidey and Venom
playing the city attack too...heh heh
*
show off
This dude is serious
The wife always wins
My newly wedded buddy only knows this too well...LOL
*
belle
Scarlett Johansson for Glamour France
Laters...