build bridges
Short stroll in town, with the respite from the haze.
Fit: "Let's Get Lost" tee*Supreme flight pants*Nike Curry dunk hi's*OG Haze G-shock
The school holidays should be round the corner, yet the kids are thankfully nowhere to be seen in town. hmm...could they all converging on the new Vivocity mall by the harbour? Oh well, fewer of them to irritate me then.
*
Streetwear Today
Last issue of the quarterly
Streetwear Today
for the year. A pretty good read, especially the feature interview with pioneering graf legend
Mode2
, his thoughts and views about how graf, hip hop, women in his art, urban/conventional art and their unique links, from the artiste to the viewer, label to the user, producer-consumer etc.
Apart from store,label,industry updates, you gotta love the photo shoots. Check out this "just kidding" shoot: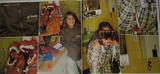 Really nice looks for the winter.
Check the
site
for more info
*******
adicolor winner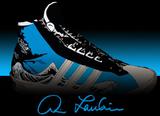 The
adicolor winner
is announced.
Ari Lankin
utilizes the omni-present Hokusai to great effect. The winning design will be released on 28th Oct (this week, queue-seekers!) at the Wooster adidas store, only 25 pairs to be available. Best chance to make use of that Porter x General Research x Rei x North Face sleeping gear! (gosh i'm beginning to talk like
dontbelievethehypebeast
)
*
newsflash: purple haze coming in
If you've noticed from the aboe pic, you would've picked out the black/purple detailing on the adicolor (you didn't? tsk-tsk)
Now, this must be one of the most consistent proof that all the shoe designers have that secret pow-wow meeting in holy-sneakerdom-land:
swoosh-dude
:"so what cha think? best way to use up those excess purple fabric/paint?"
wise-old-adi
:"i guess so, i don't see any hype kids complaining from the purple overdose on your Stussy LA pack. They'd think its the "West Coast x East Coast collab"...
swoosh-dude
:"Crips x Bloods = Purple connection! that'll sell!"
the other dassler
:"i hear ya, bro...even our fans have started jumping in on it, peep the
CT Clyde comps
and your
adicolor comp
pairs. we matchin'!"
swoosh-dude
:"now we got the frickin' purple out of our way, what do we do with those neons from the 80's?"
...[silence]...
******
babe of the day
Love these J Alba pics taken by Lidell...you wouldn't even notice the ugly photo tags at the bottom
cheers