...and x'mas/b-day prezzies keep popping into my mailbox...
New Balance United Arrows 1500
Fantastic collaboration shoe that i've always wanted. Plush suede and fine-grained leather envelope this '03 effort, with comfy full-length cushioning. UA has always represented the clean-cut, simplistic look and the only highlight of the collab is a UA logo print on the insole. Just the way i like it, this is gonna be lovely for smart casual wear items i've been picking up lately.
Bathing Ape duffle
This was a surprise find and i'm blown away as i unravelled the postal package. Canvas utilitarian Boston duffle, its a very handy size, able to fit a short-haul weekend or even collapsible if used as a laptop bag. Lots of awesome details like the embroidered ape-head in the name-tag holder, ape-head button and branded zipper-pulls (not RiRi, but it'll do, haha). Its a great companion to my Ape x Porter backpack, and perfect timing since i've been hunting for a suitable sized work bag.
Visvim Weller polo
Picked up the Weller polo from SRNDR, supremely soft Giza45 Egyptian cotton. Nice details on the buttons at collar and hem! Thanks Andy! I'm addicted now, gonna pick up more as long as my wallet allows, LOL
Visvim G1950 Newton mid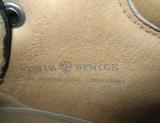 Yet another proof of needles in the ebay haystack, i was cautious of what i'd find when i opened the package, but absolutely elated with what i saw. Quality construction, good fit, luxe materials, and for the cherry on top,
Alexander Girard
fabric that is undoubtedly a perfect nod to G1950's interior design inspirations. Peep more of the
master's
work
here
*******
Doin' Time
So what does bored ol' me do on an off-day? Why, wake up at wee hours of the morning, join hundreds others in queue for... food?
Haha, its the annual Big Queue for our local delicacy of
BBQ sweet meats
, and no queue nor hype is greater than at
this age-old shop
in the heart of Chinatown, during the festive period of Lunar New Year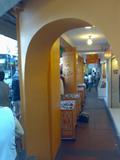 Mind you, i've had plenty of my share of queueing, raffling, jostling for sneakers and stuff, even 4hours in chilly december month of NYC, but that ain't nothin' to this! LOL 6hours for perishable food! argh! I'm telling you, us Asians invented queueing, y'all! :) Oh well, just glad the folks loved it. Big ups to my best budd for doin' the time with me. Definitely ain't what i'd do anytime soon... ok, maybe till next year hahhhaa
---
READZ
Picked up some essential printed matter
Monocle

Nice article on preserving Japan's traditional wooden farmhouses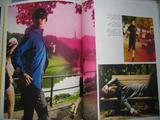 A rare sporty shoot, nicely done


I love this shoot of interior decor in a London penthouse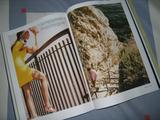 And of course my fave part of Monocle, this time taking a forward-look into s/s in Tuscany. More great reads in this issue, get yer own copy!
iD


The scintillating Feja Beha: hotness!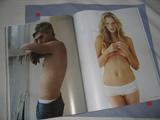 ---
DROPZ
Lots of dope
tee prints by Patagonia!
especially Geoff McFetridge artwork!
*oops, guess i'm a little late, they've have updated with new stock*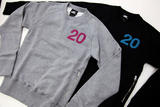 Nice Spring09 Nike x Loopwheeler tees. Love the iconography!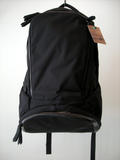 Nike x FCRB dopeness: backpack and fleece-lined sweat!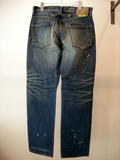 Sophnet bottoms: damaged denim, cargo workpants!
---
RANDOMZ
Gap x Pantone
Pop up store for collaboration between
Gap and Pantone
at 5th Ave NY. These are so dope. Worldwide distribution please!
The Selby
Awesome look into the home interiors that inspire great artists/actors/designers
Laters y'all!