09AUG

visvim|sophnet|marcjacobs|visvim
Got together at a friend's pad for potluck dinner on N-day, so glad my flu's all over and i can enjoy my booze and food. yumz
14AUG

viktor&rolf|headporterplus|visvim|ape
Broke out the hpp pants on a casual friday, popped by srndr to have a look at the new NBHD/visvim stock. Wish i had the ca$h for some vis foleys...sighs
Some otaku-love from KC: i passed a couple of NB kicks to the NB connoisseur and he kindly reciprocated with a Stussy Shizuoka exclusive tee and a GDEH button-down
Like he says, that Stussy "how ya livin'" print is way higher quality stuff than whats been put on shelves lately
big ups to the OG bro! lol
MAILDROPZ

electric cottage logo tee
sure i have more tees than i can wear, but an EC print is always welcome in my wardrobe. Its just so awesome to have anything from HF's defining collection, the logo branding, sleeve print and of course, the quintessential sleeve tag, that's so prevalent in streetwear today (that no one has remembered where it originated)

Stussy Japan "blowout" tour tee
This one's a nice find, and perfect companion to the SZK tee KC gave me. Part of the '01 skate tour of the Stussy crew, i believe it was a crew tee, and not sold? (anyone confirm?)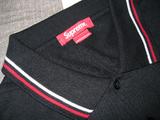 Supreme x Smedley polo
Been hunting this collaboration for a long time now. Its always either the wrong size or the wrong price(technically never a wrong price for a must-have, but you know what i mean). Once again, big ups to the masses of collectors out there who keep their clothes DS for fellow crazies (lol)
And then we come to yet another contradiction...or rather addiction
I can't seem to quit the sneaker game. Sure, no more crazy limited edition hype-driven sky-high-priced sneaker ever since i got my grails. So what does that leave me with? Still plenty of other options apparently, hahaha! While i no longer buy kicks for hype-dom, theres nothing inherently bad about those kicks thats for sure. I just hate the hype-biz/buzz that builds and fizzles out before launch. Given a chance to get them for true retail and outside of the hype-ish, i'd definitely do so.

Nike Dunk Hi "Try On" pack
You either love or hate this pair/pack. Designed (or some say, a lack of) to replicate the ubiquitous grey dunks at the NikeID store which customers try on for size, i love it for its utilitarian feel. Said to release to limited numbers (case-load of 36pairs?) as the 21MercerStreet store exclusive. Another reason why it grew on me is that it reminds me so much of the
concrete dunks
done by Juse of
ihavepop
. I was really stoked to read about it then, and wanted a pair so bad! If you're reading this Juse, hit me up, i still want a pair!
And from giving away NBs to buying more NBs...i'm mr contradiction here

New Balance 990 x Hanon x Schoeller
This one needs no introduction. Totally dope colorway, incorporating Schoeller's
3xDry
fabric technology for a production run of 144 pairs.

New Balance 991 x Crooked Tongues "Black Tom" sample
This will be very familiar to the NB headz out there, but a longer look will reveal the slight difference with the actual release. The sample for the "Black Tom" design sports the same dope colorway of neon green, mix of grey suede and tumbled leather. It only lacks the embroidered "confederacy of villiany" pack label on the tongue, but i don;t think it detracts much from the overall look. Plus the fact that the pack only had a tiny production run of 99pairs per colorway, this sample is worth its weight in rarity.

Michael Lau Crazychildren "The Pig"
I'm such a Nike hog, this one probably speaks the most about me, LOL
Not an easy find among the numerous design variations for The Pig, especially one with Michael's signature, this one has its place on the mantelpiece.
---
Supreme F/W09
The new collection is pretty amazing, with lots of good looks and quality items for winter. But knowing me, you should already know what my heart beats for...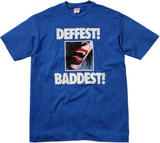 Not sure if i can pull off print tees anymore, but hey, a hoarder is a hoarder :)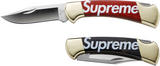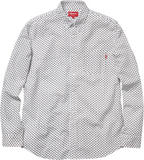 Definitely need some l/s tee and shirts in the wardrobe. Not sure how i'll get the buck-knife in, but if anyone can help, pls do! thanks in advance!
---
RANDOMZ
Blake Lively is seriously hotness defined
wow
laters while i get some time alone...