So i've been waiting ages for these to arrive in the post, and i guess its apt that they just trickle in one by one to antogonize me that little bit more!
In the end, i couldn't wait for the weekend to come just so i'd have more time for these babies, ha!
Nexus7 x Daft Punk
"human after all"
I think the last time i saw this was in a small little collumn in a Jap mag. This is one of those "double-name" collabs that is absolutely too cool to be missed, esp when you consider the madmaxx theme by N7 and the futuristic worlds/vision by
DaftPunk
*
New Balance x Levis 999
This needs no introduction for the NB otaku. 2nd wave of collab with Levis, this one is chockfull of premium goodness. Full croc leather upper with that creased suppleness that can only bring to mind haute couture attention to detail, and a superfine denim accent to simply remind you, that, yes, not only is it handcrafted and features beyond-premium grade materials, its also a collaborative item.
And that pig-leather lining with that raw, almost vulgar tan-pink come-hither allure? yes, its smooth as silk, softer than butter and orgasmic as they come
The effort put in to craft this beauty pays homage to the heritage of the 999. Oh, and the little touch of Levis signature yellow thread on raw denim? esquisite. Its almost as if Levis didn't want you to think they had a hand in this...
At 1 in 200, i tend to agree
*
Nike AF1 x Rocafella Records
Jay Z Blueprint 2 : The Gift and The Curse
Last but definitely not least, rounding out the pick ups of the week, is this rarer than rare sneakerhead's wetdream of a shoe.
Released to coincide with Jay-Z's double album "Blueprint 2: The Gift and The Curse" in '02, theres a few versions of this shoe out there. A white/white pair dropped in the region of around 100 pairs at select stores and disappeared faster than you can say "hyperstrike".
This pair is "white/white/ice", featuring an iced-out sole to floss album shout out from the outsole, is a never released sample - its for friends-and-family only.
So how did i get hold of it? Floss the
cash
? Nah, i got none of that. And while i would love to say i'm tight with Hova's crew, i ain't gonna lie. Its down to pure dumb luck, and yet another notch on my ebay best finds ever list.
Yep, its been worn, but seriously, when its in your size and with a sole clear as crystal, you know its a lockdown
*******
DROPZ
Nike SB x Concepts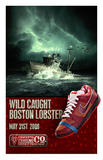 One of the more unique collabs inspired by a city's iconic seafood and designed by a
fellow blogger
for a
sneaker store
, pics were first released a pretty long while back. Its hard to keep something like this under wraps for long.
However, instead of fizzling out or lost under the mountains of hype news daily,
it was a well-crafted piece of marketing strategy - the idea of "there was more to come"
The shoe was revealed, but not the sales concept, not the awesome box, not the dope details... and boy, were there details and then some
Stripped of story and concept, it is just a red-toned shoe with very well-made detailing (esp the fabric lining)
Combined with the story of the world famous Boston lobsters, fabric lining remniscent of the lobster backet, splatter-like prints not unlike a lobster shell, rubber bands for claws, caged wooden box and freedom of co-labelling, it is immense, at once bringing back memories of your first holy grail of a sneaker, where you'll pore over the details like a kid with a sticker book. Much props
Shoe drops at Concepts 31 May
*
Gap Whitney Museum artist edition T - Barbara Kruger
Love this Barbara Kruger designed tee for
Gap and Whitney Museum's artist edition
How long has it been since we last saw Shalom?
*
Dior mobile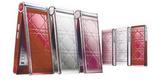 Following Prada/LG and Armani/Samsung, Dior tops the rest of the boutique phones with this release with
ModeLabs
Featuring a touch screen display, camera and a remote control extender called
myDior
(about the size of a USB key to clip to the side of your bag)...all of which still just not justify the $5000 price tag.
But hey, if you have a divorce settlement with the oil baron coming up, its definitely up your alley =)
*
KateMoss TopShop high summer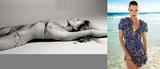 This new summer launch looks good, and perhaps can pick up the slack from the previous disappointments... but then again, thats why Ms Moss is in them pics, she looks heaven in anything
Shop here
*
Richard Kern for Mishka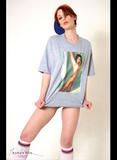 I seldom look at Mishka's items, but hey, if its prints by
Richard Kern
, i'm interested.
And if the look-books are shot by the awesome
Ellen Stagg
, i couldn't miss shots like this: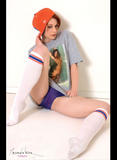 You get like 2-for-1 with both provacative photogs, yay!
*******
RANDOMZ
Pharrel for Vuitton
"Blason"
Link
Fay "give it to me straight" comedic cut
Link
OK, so the music's not great, but follow through the storyline in vid and catch the comedic ending with the indomitable
Suzanne Whang
(Harro! Yarro Powaar!)
Weezer "Pork and Beans"
Link
One of the best vids, and indicative that Weezer loves YouTube as much. How many youtube online-wonders can you name?
Rihanna sexy leather outfit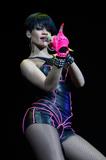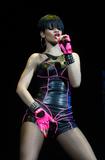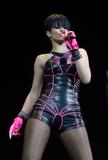 coupled with recent interview where Rihanna says she likes to wear her
stage outfits in the bedroom
, it only proves one thing: damn that lucky sonofagun Chris Brown
Kristen Bell
she's gotta be listening to "baby got back" in that ipod
laters!