New Balance SuperTeam33 PartII - Stingray
Part 2 of the SuperTeam33 series is once again upon us. As
mentioned earlier
, the SuperTeam33 series is a quarterly release, and New Balance Japan takes over the design reigns from USA. Based on the industrious strengths of a special team of 33 in Skowhegan Maine, who are very skilled in their trade, have an immense pride in their work and are committed to creating high quality products, the ST33 collection is the pinnacle of craft and enduring value from the century-year-old company that started selling arch supports way back in 1906.
Setting apart from the brightly coloured debut collection of the "Fish Shoes" from PartI, this second collection is designed in typical Japanese minimalistic colours, using Stingray leather, creating a distinctive image and style.
It presents a mature and minimalistic tone, incorporating global fashion trends and subcultural elements in its usage of not only cow-hide but stingray leather as well as check pattern on the uppers.
Known for its poisonous rod-like tail, the Stingray was known as a "swimming jewel" in ancient China and it was believed to bring wealth "swimmingly" to the person who owns the leather as well as firmly protect their property. In Japanese history, the unique beauty and durability of the leather was used for decoration on sword sheaths and helmuts dating back for more than 800 years. Another unique feature of the stingray is the "pearly eye" on the back of the Stingray's backbone. There is only one such mark on each Stingray [this is duely replicated only on the left heel of each pair], and it is as distinct as a fingerprint. The revered star mark is refered to as "the eye of heaven", and for sea-farers, they consider the Stingray the patron saint of the oceans.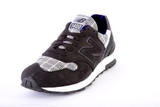 Shots of the front and rear of the left shoe. Check out the distinctive "jewel-like" texture and solitary "eye" of the stingray on the left heel.

Shots of the "ST33" embroidery on side upper and tongue tag.

SuperTeam33 seal of approval on the insole and box label

Style shots of the Stingray being worn, courtesy of Mita sneakers
Black/Glen Check/Stingray
Navy/BlackWatchCheck/Stingray
Catch them on April 20th at the selected 33 stores worldwide