proddy
Kinda slow, can't wait to get to weekend sort of week for me. Would've shared more pics if only the cam didn't die on me. Shit, now i gotta save up for another digi-cam. Any recommends?
*
New Balance 990BPN
You guys probably seen the
990 pics
already, linked via
zzubo
, via HB,HS,SH, etc. They look good? Wait till you see/feel/wear them in person!
I was just talking about how dope it'd be for more 9-series collabs/make-ups and then these 990's crop up. Much props to the BigKahuna for coming through with this, game recognises game!
B
rown [fave color] - check
P
urple [hottest color the past 2 years] - check
N
ubuck [grade off-the-chart A premium] - hell yeah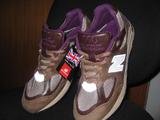 Posh handiwork on them, and i'm still nuts on the colored mid-sole [i know, who else notices them but me?]
Peep the close ups for the Nubuck goodness, too smooth and soft to be true:
The fit on them is close to perfection [576 pretty much does it for me], but the level of detail and choice material more than justify the 9-series standard [higher the number series, higher the tech specs]
Not to dampen the hopes for those that fancy this model, they're only out in Fall'07. And if your heart still beats for them [only true headz go the distance of coz], best be making calls and connections [cos SG/MY ain't getting them]
*
magazine run
StussyxFutura.503B.TrainerSB.StussyxLoweAlpine
Went on a magazine run on thurs while picking up the RRL denims from DrJohn...
Some pics:
S2C Nike world tour caps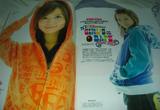 Nigo always gets the girls...modeling the latest season [damn]
NBHD 'ace of spades' pics...like S78 says "can it be any blacker?"...at which point my digicam died on me. Had to resort to the phone cam [which kinda sucks even with the CarlZeiss lens].
ACU launch pics...the shot of Fraser, HF, Futura et al offering prayers with joss incense is
priceless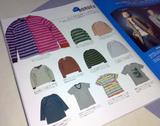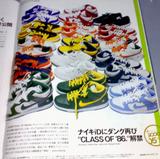 Border tees still hot for the coming season. NikeID offers "Class of 82" color palette for customization - hot!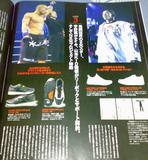 Contrast in the MMA: Uno Caol in Nike whites, Kid Yamamoto in Reebok Blacks
*
un-explained
No offence to the blokes bidding/selling/winning this tee, but i can't understand the moolah being thrown for this
alife [i liked Rivington Club] x JohnMayer [ok, so he won a Grammy and GF is Jessica] x MSG [sentimental fave with the Knicks and all] concert tee...and its not even a hand-pulled screen
The winner's prolly a big Mayer fan i guess, maybe he went to the concert and couldn't get the shirt. In any case, price is whatever the next guy wants to pay i guess
*
Tom Ford does it better
Speaking of simple tees, N7 actually does it differently from the alife print above. Taking away the talk about street cred etc, the print is more thought out [find out more about the label, design history before blasting me a hypocrite pls] and hey, you know you'd want one.
*
oakley re-issues
Looks like Oakley's going the retro-route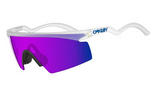 Damn i sure remember these babies. Faster than you say "Agassi-Tech-Challenge-surfin'-bad-boys", these Blades are hot, just check out the fire-red polarized lens!
info via Jon
*
late nite
wtaps hellweek hoody.stuXXV x lEvis T.stussy skull gramps shorts.06-worldcup wovens
Dropped by town for a stroll coz its the last friday of the month: late nite shopping at the malls [some stay open till 11-ish]. Pretty disappointed in the end, there's none of the fantastic discount deals, but i guess its great for those that work late and have no time to shop during the day/weekends.
*
mail drop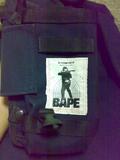 Less of a mail, more of a huge-ass parcel box! The Bape x Porter backpack finally arrived, and one of my grails is complete. I consider it a real vintage and since i'm not able to venture out to the Tokyo resellers, getting this is really an achievement in itself, not to mention, way cheaper than market rate in Jpn.
The interior is cavernous [think 2 whole shoe boxes with spare], and who doesn't like the militaristic/functional straps, pockets and the palm-sized map/radio pouch on the shoulder strap?
...now i gotta get more loot to stuff into the pack...lol
*
Manik Skateboards x Charles Peterson
Manik Skateboards
collaborates with
Charles Peterson
for use of his excellent photos from the grunge years. I sure miss Kurt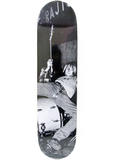 Kurt - drums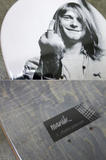 Kurt - salute
"Leap" and "Crowd" - i'm loving these 2, pictures do speak louder than words.
You've read/seen the Kurt decks, but i'm feeling these other 2 as well: Mudhoney and Pearl Jam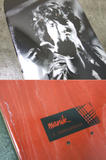 Growing up, Pearl Jam was very much a part of my life.
Ten, Vs
still speak to me to this day, but on different levels, and thats why they have a special place in my heart. And i won't forget the concert Pearl Jam and Mudhoney threw in SG way back in '95, Eddie's Richard Marx-parody [who had performed on the same stage the previous night] of "Right here Waiting" was just icing on the cake [especially with the lyrics taken in the Singapore context]:
whatever you do
wherever you are
you can fuck

wherever you piss
wherever you shit
make sure not to fall asleep in it

wherever you pee
wherever you spit
make sure you're not caught by the cops

don't want to be caned
don't want to be shot
i just wanna... rock

*
randomz
Adriana Lima for Audi
Hall Berry pumps up the humps in a hot Cavalli number
*
throw some DD's on that bitch
Its amazing what Kanye can do...
Throw some D's - Rich Boy
Throw some DD's on that bitch - Kanye West
argh, i can't get it outta my head!
laters