Daily (b)Read
While the info-boom from the rise of the internet eons back gave birth to what was the largest library in the world: literally the connectivity of the world(!), i still love the feel and nature of the traditional paperback in the palms of my hand. A new and old [5yrs in streetwear claims seniority these days] magazine form my 2 of my current regular reading fodder.
StreetWearToday
Never a Quarter arrives without an accompanying issue of
STW2D
. This quarter features the theme "act on instinct" with
Hardy Blechman of Maharishi
in the centerpiece-prose. Its such strange coincidence that i was just asking about whats going on about the brand 2 posts below...[hmm, i must be doing this bloggy-thing right eh?]
The doyenne of fashion-camoflauge speaks about his fascination with camo, and how acting on instinct brought him and the label where they are right now and his future plans for the label.
I've always loved the mainline and what the label was about, although i didn't really feel for the direction of mHi lately. In my opinion, too many distractions with diverging collaborations [although i guess that was what mHi-line was probaly about] took away the freshness and edge from the people's impression of the label. But all said, i wouldn't doubt the man who does epitomize "instinct", and i'll still be there to check out what he has coming out his sleeve.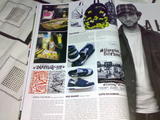 Loads of beautiful features on
beyondthevalley
,
evaw
and new drops likes the stayhigh149 x Gravis kicks, new rocker packs from Eastpak [Hives, Prodigy,KaiserChiefs] and NB14000 'StingRay'[dropping tomorrow btw]
Features also on Dave White [shots from his "court is a battlefield" collection] and Fred Perry [and their lovely feminine mod collection]
Lots lots more label/shop/music/industry features than i can capture, but get
your copy
and enjoy!
*
Monocle issue 2
At first sight,
Monocle
seemed too heavyweight for a regular like me. It looked too
Economist
with its claim to be a "briefing on global affairs, business, culture & design" to mentioned/compared with STW2D. And you know what? it's surprisingly easy on the uptake, and it does draw some parallels to the former. There aren't many publications out there that covers the same topics as succinctly or pointedly as Monocle. Like STW2D, its ahead of its class in its coverage.
This month's cover story is on Norway's focus/fears on being on top; short write on the arms market IDEX [i wanna buy a rocket or 2 too!]
Spotlight on buyers from corners o the fashion world; 223yr old John Smedley label and the efforts to move on with the times [with plans for a non-knitted line]
A colorful and glossy photo-essay on Benz G-wagon assembly-line; and the decidedly Jap-influenced KitaKoga manga.
Do not be fooled by my pics, theres loads and loads of other stuff and info in this 180page publication to occupy till the next issue [i'm still not done with it, and issue 03 is out!]
*******
Vice x adidas skate "StripeOut"
"This spring/summer sees the launch of the new adidas skate range, road tested in London by the capital's most prolific riders. Footwear goes old school and apparel sees collaborations with one of skateboarding's Godfathers, The Gonz."
To celebrate the new range, Vice and adidas are hosting
an exhibition of skate phtography and moving image"
Looks good, while i'm not really feeling the footwear range, i'd be interested to see more from the exhibit. April 19th-26th
Laters