New Balance Super Team 33 [ST33]
Most of you guys will have already heard about the New Balance Super Team 33 launch. Here's little more...
First up, the numbers:
ST33
: 33 elite retailers around the world chosen to represent the brand's high-end lifestyle collection
4
collections with unique themes from the different region:
US, Asia Pacific, Japan and Europe3
shoes per collection theme
1400
: Model silhouette for the US theme
20-01-2007
: Launch date
Production run
i'll keep it hush for now, but here's a ballpark figure for the headz: its definitely fewer than Consortium, more than SuperApeSkate
*
Design Inspiration
Drew Nyssen drew inspiration [pun intended] from the perforated "fish scale" leather used on women's handbags by couture designers. The 3 species chosen, Neon, Clown and Butterfly fish were some of his favorites as a kid. The species' skin textures and colorways are faithfully replicated onto the shoe uppers, lining and laces. To top it all off, the shoe box forms the aquarium from which you could view them from.
The collection reflects the brand's proud tradition of building high quality shoes in the US, utlizing high quality materials, skilled fabrication and manufacturing and intricate color detailing and embroidery.
*
Neon fish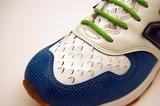 Check out the perforated suede toe box outer, reflective "big N" and heel tab, cracked leather on the heel counter, and "fish scale" leather upper and tongue, all set off with neon green laces.


Aquarium shot for the Neon's.
At first look, this colorway seems like yet another Neapolitan BBC/Ice Cream/Bape Roadsta take. However the closeups really reveal the material quality and efforts taken to replicate the subject's aesthetics. It grows on you

Clown Fish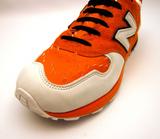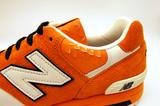 Very "Summery" feel of a colorway. Suede uppers with characteristic "lines" of the clown fish. Standard perforated leather uppers and tongue, black laces and a complete orange midsole [is it the first ever?] to complete the look.


Aquarium shot of Clown fish in captivity.
This one jumped right at me when i saw it in the pack of 3. The safety Orange is sure to draw attention. Once again, i'm fooled by the design's simplicity when i noticed the line detailing and black lace to imitate the Clown fish's skin. Subtlety of design versus the impact of color.

Butterfly Fish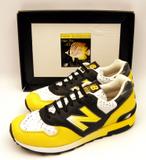 Spot the difference in toe box between the Butterfly and the Neon. "Fishnet" style leather uppers envelope this 1400. The lace-up vanity panel and saddle form the forehead of the Butterfly fish. Not sure if you've noticed it yet, the "big N" and midsole fades in from white to yellow!


The Butterfly colorway may look run of the mill against other brands' similar color releases, but not many can match the detailing and feel!

One of the main aims of Super Team 33 is also for consumer research. For many of us, we know the feel and thrill of hunting down our kicks. So i'll leave it to you to hit up the selected retailer for this collection! [i'll put up the full list of locations later on, so bookmark this page]
For local headz, only one place to go:
Limited Edt VAULT
#03-12 The Heeren
Singapore 238855
Tel : (65) 68369095
Laters
*edit
For those checking back, here's the list of ST33 stores:
US/Canada [11]
: Alife [NYC].Shoe Gallery [South Beach].The 400 [Denver]. Sportie LA [LA]. P.E.G [Dallas].Tannery [Boston].ShoeBiz [SF].Capitol 1524 [Seattle].The Vault [Toronto].La Godasse [Montreal].El Kartel [Vancouver]
Europe [12]
: Hanon Shop [UK].Size? [UK].Offspring [UK].Solebox [Germany]. Tate [Germany]. Trust Nobody [Spain].Liifstiil [Holland].Sneakersnstuff [Sweden].Wallace [Denmark].Vintage55 [Italy].Gente [Italy].Colette [France]
Japan [6]
: Mita.Atmos.United Arrows Blue Label [HRJK].Oshman's.Urban Research. Darjeeling Days [Nagoya]
Asia-Pac [3]
: Limited Edition Vault [Singapore].SH Owin [Taipei].D-Mop [HK]
Latin Am [1]
: ZOO [Santiago, Chile]