New Balance 320 runner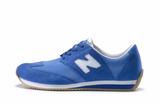 The classic runner is back! Starting from April, NB drops the legendary runner that gained unprecedented fame for the brand and catapulted them to the forefront of modern athletic shoe design.
Rated #1 in Runners World 1976 for "fit" and "comfort" over Brooks, Onitsuka, adidas, Puma, Saucony etc, these shoes were found on the athletes to the common man due to the rise of the running for fitness trend around the time.
The elevated wedge and midsole combination elevates the heel and reduces shock on heel strike; the molded heel counter prevent rotation and lateral slippage, thus eliminating irritation and blistering; and of course it came in multipel widths.
It also heralded the role of Terry Heckler on the branding of New Balance: He
1) argued for the performance look of the shoe, leaving behind the "nursing home adidas look" of the Trackster;
2) stuck a huge big N on the side, slyly making people think it was a Nike; and
3) started the numbering system for the shoe model, thereby giving equal status to each shoe and not superstar treatment.
The following are the upcoming releases [release dates accurate as of print, check with your local stores/distributor for more information]
April
CM320GBO, CM320GSB, CM320GGB
The Gradients have a more "fashion" take on the 320, and my word it definitely works. It relates to the fitness fashion trends in the late 70s to the modern retro phase of the design.
May
CM320RD, CM320YL, CM320PK
June release
CM320GR, CM320BL
Solid colorways for the above 2 release batches. Key point being the OG blue. Yep, those same ones in the ad [which Heckler designed], as worn by "Ma Balance" and "Pa Balance".
July release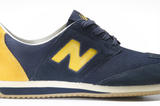 CM320OR, CM320NY
September release
CM320TR, CM320WN
And then we have the two-tones. I think those Navy Yellow's look lovely don't you think so?
To truly bring home the point of a retro shoe, it even has the attractive price point. Now given the inflation over the years etc etc, i can safely say it is only slightly more than double the RRP of usd$24 in 1976[referring only to local price here, sorry if your location/country has high taxes]. Quite a steal, no wonder the Japs are raving. Peep some nice interviews and pics at
ShakeNB
~*~
edit: thanks to "-Z-" for the reminder [that was quick!]
the 320 will be available in Singapore, no worries on that.
The Gradients are already out, go check out the NB concept stores [tell 'em i sent ya!]
Raffles City Shopping Centre
252 North Bridge Road #B1-79/94
Tel: (65) 6336 3867
Velocity@Novena Square
238 Thomson Road #01-39/42
Tel: (65) 6352 1826
Or drop by 6 popular 77th Street boutiques at Causeway Point, Far East Plaza, Heeren, Jurong Point, Parkway Parade, Tampines Mall.