Friday13th...boredom
Pretty glad the weekend came, i've been bored to death during the week. Not that theres lots to do on Saturdays/Sundays, but i just welcome the ability
not
to do anything.
Of course, it also means i get to
youtube-surf
my way to wee hours of morning, and nothing beats whiling away your time than watching TopGear
Bugatti Veyron at 407km/h
I know lots have seen this 8th wonder of the world; lots have seen Scott Storch total his and who can forget Nigo pink-camo'ed his. But any demo done by TopGear dudes, you've got to watch, their review is the industry standard and by which any other car is mentioned upon.
What hasn't been said about the Veyron that you don't know about? Fastest[407km/h], most powerful[1,001bhp] street legal car in the world. 16 cylinders, 10 radiators, hydraulic spoiler, each brake caliper has 8 titanium pistons, tires that burst if held at top speed for 15minutes, and fuel for top speed that last for only 12minutes...i could go on, but it only proves one thing, i will never be able to own it.
know more here
, and
read more here
And if you thought that was some sick review, peep this one. I drive a Toyota myself and it sure is assuring when you see something like this:
Killing a Toyota
Scratch, bumped, drowned, dumped and flamed [wtf?!] and she still purrs
For those interested, peep Part II, where the Toyota gets plonked from top of building.
part 2a
and
Part 2b
*******
Knut
You would also have heard/read/seen about Knut, Germany's darling polar bear.
Not content with fame in Germany, he has conquered the US as well, with a
Vanity Fair cover
with Leo no less! Peep the video where he plays with the keepers and celeb shutterbug Annie Leibovitz.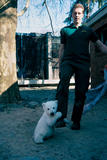 Oh did i mention he has
a blog too?!
*
While you're at VanityFair site reading about Leo's upcoming docu on climate change, Knut being the centre of bear politics, have a nice read about
Climate Politics - Texas Chainsaw Management
This comes just in line with the recently released
Climate Change report from the UN
, where it chronicles that Asia will face drought, Europe will heat up, South hemisphere will flood...in other words, no one will be spared. Shouldn't you be doing your part too?
*******
NB A01
Ah, the A01, taking inspiration from the design aesthetics of 574, 576 and abit of the 996's...but thrown into the sesame street world of colors! I actually quite like these "muppets" [yes, i coined them first], but if they made more of those lime/lemon joints, i'd call them tennis balls like Alife's!
I think they look just fine for summer!
*
Tony Larson for Girl skateboards
Never thought you could afford an Eames? Well, let Tony help you out with an Eames chair deck print...among other luminaries of the design world.
[edit: ok, so you could get Eames prints from the old XLarge line couple years back -don't think i don't know]
*
comment: VSVM fall G-line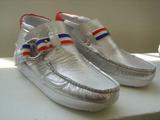 Now usually i don't do this, coz prolly its out of my league, nor is it my authority to do so. But i think i do have some rights as a consumer to disagree with
Hiroki's
G-Line Fall collection. Actually, i haven't taken a liking to first intro of the G-Line either. For those unknown, G-Line simply means, Global Line, or rather simply/literally, its for the US/rest-of-world market.
Its sorta strange for the king of monochrome and all things earthy to go all out to woo the US market with colors and patterns, as he has
mentioned himself.
Me thinks he has spent too much time with the "yes-men" in the US and over-thought himself. Almost every US-based site says its awesome, and i feel it is based on the brand's track record instead of the line itself. Well, back on the Asian+Europe end, the response has been lukewarm and most of the attention has been on the black/white or solid colors of the line, which is what Visvim has been all about anyways IMHO.
I mean, why the Vandal Supreme imposition on the Skynard Double [flashy stuff could be on the Newtons/Judds, and def not VandalSupreme disco nylon]?? or the camoflauged FBT [wouldn't a woodland 7hole be better]? And don't start with the patent on MocToe Canoe joints [good lord!]
I don't know, i just hope the line improves, and not become a mHi to Maharishi [have you seen/heard about them lately? precisely] For now, its VSVM JP >> VSVM G-Line
pics via SuperTouch
*
Nike WMNS air Kukini retro
Speaking of good releases, i'm stoked that Nike manages to [finally] do a proper retro. Its pretty amazing how they can mess up the J's, tech challenges [my buddy Jon is still in mourning], anything else with 360 hybrids etc, yet turn up with these beauts. I thought i'd never get the dots back on '00...
Then i figured, its a womens release. So anyone out there, please help with a us12?!
By that logic, i;m petitioning for proper retro's by asking for all the hot vintage kicks to release as womens designs [i bet lots of female sneakerheads will enjoy], just make sure they run up to us14 [for the mens us12]! hahaha
pic via AltSnk
*******
closing out with some Alessandro
Laters