dasyatis americana
Fridays at work can get really boring or hectic. This was one of the former, so my colleague SL simply suggested we go look at some fishes at
QianHu fishfarm
during our [self-extended] lunch break(!) Not that it was something anyone would simply do on a whim, but i figured it should make for an interesting Friday don't you think? LOL
Collecting aquarium fish can really be an expensive hobby, especially those of the arowana variety [those prized ones run up to the couple grand per fish, my friends!] It pretty much tests the patience and skills of the collector/owner to rear these prized catches, and it definitely brings in the money for those who manage to breed or rear the rare-colored in-demand fishes.
Now that pretty much parallels those of the shoe-collecting world in my opinion, and thats why they call both fish collecting/rearing and shoe-collecting hobbies! Only difference is our kicks don't die, although its value drops dramatically to nought when we thrash them to bits, heh heh
SL brought me into the VIP area where QianHu displayed the arowanas for "export" purposes [amazing what a couple of smiles and nods can bring you, haha] and its simply awesome. Not that i can't take pics, just that i don't think any photo will do those reflective color any justice.
Walking on, and what do i find? Stingrays! awesome!
Check out these lovely freshwater "Flower Stingrays" nicknamed "Sakura". [yeah, they have nicknames for them just like we do with shoes!] Not too expensive [around 100-200sgd a pop] compared to the tiger-striped ones [yeah, camo-style!], but i quite like them, cos you can really make out the "sakura" patterns on the skin! and when they mature, the skintone becomes darker, it really brings out the camoflauge capabilities. SL kept like 6 different types back at home, i'm definitely impressed by his commitment and deep pockets [those were like 6K in the pond!]
Oh well, an hour or so, and its back to the office for the daily grind...
*
"yes sir, yes sir, 2 bags full..."
lacoste.RRL.NB990.s2c lowe-alpine.
After work, i really went fishing, dropped by
Vault
for the NB ST33 release.
Catch of the day: black tartan stingrays
You won't believe the how plush the purple velour feels! For those still hesitating, don't think too long before its gone
*******
kicks
converse - fragment
HF posted a preview sometime ago, now Shinsuke does the full monty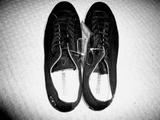 These differ slightly from the all stars in design i think. Simple shoe once again from HF...but watch the lines start to form
*
visvim sophnet logan
Sophnet continues the excellent collab with visvim this season. I'm loving the zipped rear [why does visvim reserve the zips only for collabs?! put them on the regular releases already!!!]
*
dunk suedes
I liked the canvas dunk SB's that dropped long time back called the "carhartts", now they've released the suede versions... not too bad
*******
ads
Chec out these innovative ads:
Quiksilver
-interactive ads for the surfwear/streetwear company
who the heck puts a railing that high?
...but i guess it has something to do with the law-abiding company on non-skating regulation...
WWF-environmental ad in China
I think this is an excellent way to push the point across. Minimal text, action seaks louder than words.
pics via adgoodness
*******
pic of the day
moral: always proofread
laters