drain
Pretty drained out week for me. Lots of cleaning up at work. Sometimes i feel that i'm almost setting up all these mess to be cleared by me anyway, that its totally pointless to even hand out tasks to anyone any more.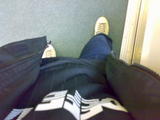 NB techjkt.adidas-undftd-arkitip-petesoutherland.201xx.VsVm Serra.Bape-Porter(no visual)
It was a slightly washed out midweek as well. Probably the last of the Spring showers before the heat of May hits.
Speaking of cleaning mess-up's, i remembered reading about Red Cell by bad-ass Rogue Warrior
Richard Marcinko
quite some time ago. During his tenure as commander of the band of merry men, their team emblem was a toilet seat with the globe in it. The motto for all their black-ops and wetworks? "WGMATATS: we got more ass than a toilet seat"
Now that would make a cool logo/emblem wouldn't it?
Attus Apparel
Well, its not exactly the replica nor intention, but
Attus
probably comes the closest so far with the toilet bowl logo.
Check out their range of cheeky logos on their polo-shirts, depicting the
Hesher
, Shredder[board god], Jerk[1 finger salute], Sid[obvious punk god ref], Hangover[the requisitory toilet bowl] and the 40[% alchohol to get the party started].
I say its a nice departure from the usual animal-driven emblems of
sporty stallions
,
gallant steeds
or
right and left-facing crocodiles
.
Drop by
Attus Apparel
to have a look, tell 'em i sent ya!
*
S2C Utsunomiya Chapter exclusive
Check out the lovely exclusives for Stussy Utsunomiya, with tools and planks denoting the reopening of the store. Also released as raglans and a pretty nice collab with
Dickies workwear
for an workmen overall.
new drop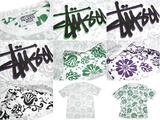 I'm liking the inside-out print of the Stussy Isle crew, as well as the crazy "Wild out" prints of Xlarge [seems like a match for the Nike atmos "animal pack"...heh
*
daze
'Preme box.'Preme aircrew flight pants.SlamJam Terminators.S2C-LoweAlpine
Weekend's here and i just can;t be bothered to go anywhere. Its just one of 'em days i guess. Pretty much spent it all stoning in front of the pc, catching up on hype news and what-nots.
instant wish-list
This Sophnet pack is way up on my wish list...i just wish it was higher on my "able to afford" list...argh
I'm looking forward to the upcoming vintage runners by Nike, that was borne from Junya Watanabe's S/S collection. I think this summer will be a hark back to the 70/80s...short shorts and bell bottoms anyone?
*
Some things you just can't understand or explain
Now i know they
sold out real quick
. I can't explain it, but as evidenced by Bobby's flicks, they did. What i really can't understand is the ridonkulous amounts its ringing up on ebay. First i thought it might just be shill-bidding, then a 2nd auction flashes right by a hundred pop and you know there must be some desperate kid out there that needs 7.5
NewEra
to cover his bean.
*
Randomz
Rihanna - umbrella
Song is bangin' but i didn't know the video would be as well! For all the thoughts running in my head, thank go Rihanna is of legal age.
Awesome...tell me it doesn't keep ringing in your head
*
babes on Allure
Peep the lovely ladies, including the red-hot Carlo Gugino from the current Entourage
ciao