yaki-khaki-bento
itadaki-masu!
Finally something from brain-exhausting work to come home to! Have been hunting these wovens for some time, and what can i say? i'm just addicted to
Yaki-Khaki
colorway i guess! Which leads to the question: who the heck names the colorways in Nike?! haha
I'm also glad to have sneakerheadz as pals, without which these 2 pairs would not have been possible [Rufus, owe ya one buddy]. I also learnt that if you ever want to know something, all it takes is just
ask
, no need to double-think.
[L]Dk Mocha Yaki-Khaki [R]Yaki-Khaki Pony
Sure brings back the memories, finally having them on my feet. Quite possibly the last pairs to be handmade [1st 3 series i believe are handmade, anyone to confirm?], back in the days of
readymade
, one of the original sneaker hype from the word on the street to trend mags to internet chat forums...gosh is that so long ago?
*
reads
Still catching up on last month's mags and more reads. Anyone needing big ideas should read up on
Seth Godin
, the man is a genius.
Monocle
is fast becoming a staple, i'm amazed by the diversity and depth of topics
*
snappies
a couple of snapshots from the mags
soph.fcrb
Soph and FCRB are really lookin' good. Browsing thru their catalogs always make me feel poor, ha
Brent Rollins. Headporter
A short pictorial on
Brent Rollins
, the awesome artist behind the now (in)famous mural on Undefeated walls from coast(LA) to coast(Japan).
Also a peek at HeadPorter frame protector for your fixie bikes, courtesy of your fixie-head-Cinelli-lovin'-streetwear-godfather
HF
of course
HeadPorter '07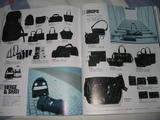 Speaking of HP/HF, peep the new releases for the different product ranges.
*******
old vs new
I saw the new designs of
Fuct
from the
hype
machine and while i guess its just another barrage of drop info, it did get me thinking a little.
Sure, any guy who's dabbled in so-called streetwear would know/remember that it was Erik Brunetti who first came up with the Planet of the Apes, war, rock'n'roll skulls etc iconic themes, provocative images and messages that question and linger long in your head.
I sure do respect the man for what he did and started for the whole "industry". For sure,
Nigo
,
SSUR
,
Shepard Fairey
and countless & faceless others have heavily borrowed/ripped off his designs, but the man and his label have held strong. Who could forget horseback ape-rider [polo club], ape-head motif [guerilla tactics], "rock the casbah", "too tough to die"[Keith], "platoon", "full metal jacket", "AT-AT", "jaws".... I still have a couple of the old too-tight tee prints still stashed at the back of my drawer just to remember the good 'ol days of Fuct and X-Fuct.
Mind you, there are plenty of sites/support for him and the brand. But its interesting what was said in them and what i now see...
Like this page from brghtnghts
Love Awareness Program
:
"FUCT™ has never crossed the thin line into self-parodic overkill" and "...has managed to remain synonym of anti-consumerism and progressive thinking by leading the path of decadent and counter-culture aesthetics."
Or the
interview he did with addicteed
where Erik says
"FUCT created the "subversive streetwear" of
this generation.FUCT would always dive in the water head first with
out testing the tempature first, and other streetwear companies would
wait to see if the "water was okay", then follow. FUCT took risks.
Asked about parody t-shirts:
"...there is a big
difference between "biting" and doing a parody."
Having those words in mind, lets check out the new designs this season:
Couple of OG prints redone [i've no prob with the "Polo Club" print, its one of my faves], the ape-head with LV-monogram.
2nd is a "welcome to LA" print [
World Tour
anyone?]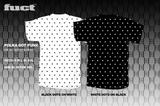 hmm, maybe some "punk polka dots" [as a "tribute" to RL/HF i guess...like 20 other labels with skulls as dots]
Some neon color overloads...oh i could just say its a typical west coast huge-allover-multicolore-print, but then who was following who, the trailblazer who "dive head first" and "took risks" or the biter-hater? and would yet another LV-monogram constitute a "parody overkill"?
All said, i do wish for a return of the true old skool that Fuct stood for. These "retro" photo prints and an earlier release of the "Dons" print seem proof that it could happen...i guess we'll just have to wait and see
*
Speaking of which, fellow anti-hero Rick Klotz of
Freshjive
too drops some new prints
I sure hope the first print is a collab with Taka's "Destroy your Enemy" label [cos its not even close to a "parody"]. The 2nd is a nice revisit of the seditionaries movement.
And here's where it gets drag into the knives/skull/hood/crossbones huge-print category as well...
I do hope its lull and that things will only get better
*******
randomz
Collab of the year: Jessica Alba x Terry Richarson for GQ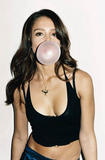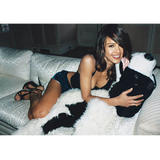 check out the vid and slides here
sweet dreamz...