laborious
Coolish Monday- wtaps hellweek.s2c-shinsuke.rrl.slamjam terminators(no vis)
Work was mainly robotic, in&out since Tues was a public holiday. The dutch officeis closed for
Koninginnedag(Queen's Day)
anyways. Heard its a major celebration over there, so go
oranjegekte
!
*
Span of Sunset - Slick pre-order
Couple of pre-orders in progress by
SpanofSunset
for the new Slick Dissizit collection
How many hype kids know the reference?
Don't you just love the Mickey handsigns? I've thought about it before, but never put it down, but i think Slick did those Supreme prints with Mickey hands as well [now watch those ebay prices soar]
To round off the collection, there's 2 hoodies and a coach and Letterman jkt.
*
McQueen is a sick designer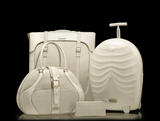 I loved McQueen's Puma line and now he brings his quirky genius to Samsonite luggages! Peep the
sick sick rib cage design
via RTHQ at 1am in the morn...zzz
*
Mossified
the Kate
drops by Oxford
, does a 20sec mannequin pose, pops a fag, chugs some champagne, oh and launches a line of clothing: pendomonium ensues
Meanwhile halfway round the world...
Servers were so overloaded, the site shut down for a couple of hours. Then prior to switching online at 4.30am, it gets further bugged down...but nice little messages on the site though (hee). I guess it could be due to silly foreigners logging on 8hr-timezone away. Not that its affecting much, last time i checked, 8 full pages of the KateMoss line are already up on ebay [and counting]
Oh well, not the full collection is online, but some nice pieces (the dresses are worth a look). So if theres any nice lasses in london who could help me pick up a couple for me lady, hit me up.
*
Offto townsy - GDEHUK.rrl.990(no vis).EA timepiece
Wanted to catch Spidey3, but turns out majority of tix have been pre-booked...darn, aren't those pesky kids supposed to be studying for exams or somethin'??
In the end settled for rumble through town and eating up a storm for tea and dinner *burp
*
randomz around the web
Leftfoot in TW
As informed by the man himself during SoleObsession last month, Anthony let on about his eastward push to Taiwan. Looks like TW-otaku's have much to rejoice,
Jahan
drops footage of the [advanced] progress. Look for the full assault from the Leftfoot and Royalefam front on Taiwan
*
New Balance Q3 Tier 1 576 - 3 store collection
So
Complex mag
drops the info (way) early ahead of others. Not sure if its intended or a leak. Anyways, only confirmation from me is, yep, all info per article is true. Patent leather, embossed detailing, "carbon fibre" heel detail, polka dot print, textile pinstriping...the works.
Crafted by the super team at Skowhegan, it is a collection for 3 stores in the US, who will have a headstart launch in July while the rest of the world only gets them in September.
Which other 3 stores? I've been playing with
GoogleEarth,
so play along and leave your guesses in the comments
More pics and details as the days (weeks) go...hopefully
*
pic of the day
dissertation on Cleanex anyone?
laters