shopping season is in
bape x futura*wtaps bdu*AJ1 '00
Here in Singapore, besides what others tell you about having 2 climates: rainy and bloody hot; we actually do have 4 seasons: pre-sale, great singapore sale, post-sale, year-end sale. Of course thats not counting the renovation;relocation;closing down;pre launch;one day only;school holiday;nowhere-else-to-spend-your-money-but-here sales that crop up in between. So if anyone reading this is intending to come over the next 3 weeks, have fun jostling for the bargains. I seldom get much during sales, hopefully i can find some decent shirts or button downs. I saw quite some good deals for the ladies though [Max Azria LBD's going for cheap] and mens [Hugo and AX as usual]...but i can't really stand the crowds, so i guess i'll do it during the weekday evenings
*
supreme mail
I usually go the online route for my fits, and while i don't contribute much to the retail economy, i think the postal service should probably thank or something :)
Supreme x W)taps tee done in typical Champion apparel fit, with felt lettering twist. Nice touch by
tet
. Props to S78 for the hook up
Also got in the new tiger stripe box cap [extreme right]. Follows up nicely with the old [Lafayette St milspec] and inbetween [digi-camo]. So glad Supreme have reverted to a deeper fit for the box caps [then again, it could be my huge head, ha]
*
arktip - "Makes 10, 12 cups of coffee"
Wha-? Latest issue of
arkitip
features Son of NY
Ricky Powell
. For sure, you'll get to see Ricky's shots and prints in the mag, but the freebie of "Ricky's Italian Espresso Coffee Blend" is a first...ha
*
KillerGerbil - OldLoveNewLove
Check out
Kiler Gerbil's
AJ1 tribute tee for the upcoming
StreetThing
and SoleObsession swapmeet in KL. Nice one!
*
W+K for Nike "Its just a t-shirt" campaign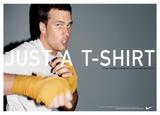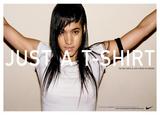 Check out
W+K's
ad: yet another example of rule of life #1: keeping it simple. Find the photography style somewhat familiar? Of course, its by Terry Richardson! [i just wish for a more controversial shot of Maria though...heh]
*
Kaws+Nexus7+Be@rbrick=sold out
Flew out of shelves faster than you can say "5 bills", this
beauty is gone
. Local dudes can check the usual haunts like Falcon's or
ambush
[news via alvin is the 4foot Kaws companion also dropped a couple days ago]
I really like the feel of this 'brick, but i guess money-sense prevailed [why oh why didn't i strike this week's lottery?]
*
Heatherwick studios
Nice shots of
Guy's Hospital
. Soon to be officially completed and unvieled, the exterior is designed by
Thomas Heatherwick
featuring steel sheets interwoven like wicker-baskets. Its shields/hides the hospital's ugly boiler room...i think its fantastic!
If you are not familiar with the man, he's behind the iconic and totally innovative Rolling Bridge installation:
Check out more from the man -
Heatherwick studios
via Rufus
*
Rotterdam bombardment commemoration
I saw the pics and info quite some time back and forgot to post, till today. The
Rotterdam Blitz
during the Battle of Netherlands on May 14 1940 heavily damaged the city centre and forced the surrender of the Dutch to the Germans.
For the commemoration this year, which marks Rotterdam as the city of architecture,
Mothership
planned a light-up of the bombardment periphery of the area of detrsuction on that fateful night with huge searchlights. Enough said, check out the breathtaking pictures: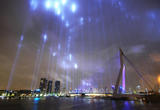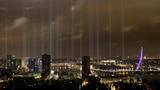 More pics and video here
and
here
*
Farewell to Daylight
We all know
Kaiser Karl
takes lovely pictorials besides being the doyen of the fashion world.
If you happen to be in NYC, check out his exhibition Farewell to Daylight at
Pace/MacGill gallery
, he explores his love for the night-line of Paris and play between light and shadows
*