neither here nor there
Can't really put a finger on a true header, so its just gonna be whatever comes on my pc and how it shapes the post:
*
easttouch clot fam
Clot fam
headlines the latest issue of EastTouch. Great to see actor Andrew Wong amongst the crew.
via kookies
*
Stussy Shibuya Parco anniversary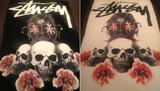 Shibuya Parco chapter 1st anniversary tee. Tribal+skulls!
*
Smashing Pumpkins - Zeitgeist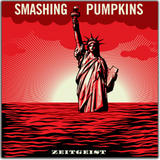 All Pumpkin-heads know about the return of
Billy Corgan's band
. For years, fans were chanting and willing the band's revival after their last effort "Machina" in 2000. On a personal note, the Pumpkins were one of the few bands that accompanied my teen years.
Siamese Dream
and
Mellon Collie
with
Billy's
angst-filled lyrics and melodic arena rock tunes sculpt and mirror my own early journey of learning; they definitely rank high up on my list of all-time fave albums. Sadly, the reunion did not include fan-faves James Iha and D'arcy.
Back in school days, i swear every kid i know wanted to emulate Iha's stage presence and fashion style [emo-look, skinny jeans? we were rockin' back then!] and D'arcy is like the dark/dangerous gal you were afraid your family would know about[haha]
But enough about the past...couple days back, the band marked their comeback with a concert in Luxemberg as a promo for their upcoming release
Zeitgeist
; go check the loads of
fan-taken vids on you-tube
Another point to note is the album cover artwork [up top]...its done by none other than
Shepard Fairey
. Now normally you wouldn't feel this way about Fairey's work, but somehow after looking at the pic and then relating to Fairey...you strangely get a very resounding thud.
I mean, personally, if artwork somehow remained anonymous, it could make me feel better. Whats worse is how the man himself
feels about the artwork
So you get a drowning Statue of Liberty and Rising/Setting Sun as a metaphor for the current state of union...what, couldn't he just use the scene from POTA??? or does he think the current generation is ignorant or only knows about
Bathing Ape
?
No offence, but i'd really expected more from the man who experimented
phenomenology
with Andre the giant and the countless design work, stencilling and wheat pasting...
*******
Randomz
Rihanna @ Radio1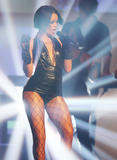 Awesome pics of Rihanna at Preston... god i hope leather, short shorts and fishnets become the norm...
Still on
repeat
on my iTunes...umbrella-ella-ella-ella-ey-ey
*
Had an off-day from work, caught up a couple of vids
Beastie on Lettrman
This one is just nuts when i saw it on the telly...still killin' it for me
Timbaland feat The Hives
From Timbo's latest album...music and video really mashes well. Awesome ode to
Sin City
and
Frank Miller
and 2 classics to round off...
Guns 'N Roses Civil War (voodoo child intro)
Slash is way way slick
Queen @ Wembley '86: Under Pressure
Long live Freddie... [RIP]
*
Kelly Brook photoshoot
front-to-back-back-to-front
Kelly Brook's shoot for upcoming calendar...enlarge the pic for a somewhat "loose" bikini bottom... heh
laters