google-eyed
NB staff jkt.BullInk T.'47 southwestsoil.Visvim Serra (no vis)
Still having rainy days in May...pretty wierd. Caught the early morning game between
Milan and Man Utd
, damn Kaka was supreme. Wished i had the old skool adidas Commodore Milan jacket, but any black/red will do (haha)
*
new Subware
Quite liking these new prints from Subware/Stash
Sure its spray caps, but who else does it better?
*
new Recon
And on the Recon end,
Futura
flexes his fascination with currency yet again, with the anti-counterfeit design.
As for the 2nd tee, its not an AK-47 as described on
Turntable Labs
, its an
M16A2
[sorry, i'm picky]
*
War Stories - UNKLE
Unkle launches their 3rd album, pre-order is open now, check it via
US link
or
RestoftheWorld link
.
And if you know where to look, you should pre-order the Japan-edition 2CD box set. Can't wait, graphix will be by Nick and Warren!
*
Mural Kings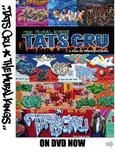 Mural Kings
dvd is out. Sure,
the guys from Tats Cru
caught some controversy with being labeled a sellout for pandering to the corporate bigwigs, but hey, art is art in my opinion.
I absolutely love this one:
*
stuff i'm liking
Converse for Junya Watanabe
These look clean and lovely! should i or should i not?...decisions decisions
Snow Trooper?
Damn, these are too sick...gott have 'em
*
Sea Organs
Ever got nostalgic with the sounds of waves craching on the beaches? Check out this awesome architectural feature in Zadar, Croatia, that recreates the soothing and harmonic sounds caused by air pressure moving through the organ pipes built into the marble steps.
Check out the visual/aurals:
Sea Organs site
*
Randomz
Its a looong Saturday for me and you know what that means...full-on you-tube time
William Spencer - Hollarado
I like how he yells profanity before and after each sick move, i do the same...without the sick moves. The last trick? out of this world
Justin Greer
And here's some Justin Greer action...nice
*
The Seed 2.0
I don't know if you guys have heard this before, but its one of my all-time faves. The Roots feat. Cody Chestnut "The Seed 2.0"
It just stays in your head and never fails to make heads bop
*
vid of the day aka clutz of the day
I seriously let out a loud "D'OH!!" when i watched it, heh heh heh
*******
Jess Alba @ FF promo in Sydney
The
Mavs lost to the Warriors
, and
she's the reason why
And i bet these dudes don't wash their hands for weeks
. And i'm not even bothered that boyfren dude Cash Warren is with her (seriously you won't notice him when J-Alba's in vicinity)
*
J-Lo white hot
J-LO still looking bodacious, mm-mmm
laters