shhh.......
Ok, by now, almost any form of exclusitivity/sneak previews/etc has been thrown out the window when it comes to the latest scoop or news break out. The dealers know the rules of the game, the headz know, friends know friends that know...but they still go ahead with the leaks. Whatevs, in any case, this is just setting the records straight for the info that is already out there...
US Tier 0 3-store collaboration 576
A while back i showed sneak peeks of the 3 stores with Google Earth maps:
A little Geography background might've helped, but here's the break down of the collection brought to you by the special
superteam33
from Skowhegan Maine USA
Alife NYC - M576ALIF
All over silver reflective upper, clear outsole: game over
Concepts Tannery Boston MA - M576TNRY
Patent and reflective detailing, Nubuck toebox/heel, suede vamp; coupled with clear and rubber outsole: geeky or trendy, its NOW
Sportie LA - M575SPLA
Patent toe, embossed synthetics ("carbon fibre" look) on heel, pinstripe textile, multicolore polka dot detailing: love it or hate it, it breaks necks
Each pair will be released in-store way ahead of rest of the world and come with unique co-branded hangtags. The collection is definitely unique and i would say a very apt reflection of the stores they represent.
*
Japanese "conbini" pack 574
Some form of familiarity on this one. We've seen Bathing Ape do their highly successful [exclusive] set of Bape Sta on the same concept and now NB-Jpn replicates with the 574. Inspired by the
conbini stores
allover Japan [43,667 at last count in 2005], check out these 3 flavors all featuring suede and patent leather, with reflective detailing.
7-eleven M574MSE
ampm - M574RNO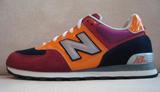 Family Mart - M574MFM
Overall, I quite like the
ampm
colorway. I think they should be quite a hit
edit: just realised the typo, it should be 574. my bad
*
574 AVENJ Artist Edition - Sean D'Anconia
Much like the previous artist editions by
Josh Wisdumb
and
Eric Haze
, this time NB presents Sean D'Anconia of
Her Majesty's Secret studios
.
Sean is also the designer of Big Puff Maki, produced by Enjin Factory. Part of the "Instant Sapien" line of figures, BPM is a part anime, part Bruce Lee, James Bond, blood and gore kungfu-fighting afro hero.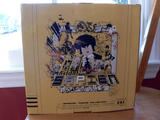 After
a brief collaboration with NB designer John D Franklin
on directing 20 customized Big Puff Maki for the LasVegas Pool tradeshow in 2006, Sean returns the favor on a customized NB shoe
M574ETD "AVENJ"
The shoe pays homage to 70's grindhouse cinema using a collage of the icons of the era: streets of Harlem to the skyscrapers of Hong Kong, from Yakuza to KungFu. Check out the detailing in the closeups below
Trivia: Sean regularly slips references to
Atlas Shrugged
in his artwork...have a good close look if you get your hands on this :)
laters