goodguyswearblack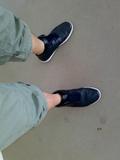 Supreme "Superman-Ali".w)taps BDUs.Gshock Haze.Supreme Midtowns
Off to catch the
arachnid
finally this afternoon. The special effects are fantastic, especially for Sandman and Spidey/Venom. While the story tries its best to show the dark, vengeful and sometimes flirty side of Peter Parker, somehow i feel Tobey McGuire fails. As a nerd, sure, he's excellent, almost none better. As a suave, Travolta-ish flirt? puh-leaze...
I ended up hoping James Franco's New Goblin really beats the sucker, coz face it, he's way better looking [and thats coming from a straight guy]. In the end, i think all 3 villians [Sandman, Goblin and Brock's Venom] outshine Spidey and rightfully so, coz thats what i remembered when i was following the McFarlane era...
*
Phase in
A nice little packet dropped in before the weekend, courtesy of the folks at
ningyoushi
. It only seems a couple years back, from the guys of defunct
Phase0.2
, hosting a DJ battle [with DJ Tommy no less] and this here's the event tee
Peep the braile pop-up print [has it been done before elsewhere?] below the box print
*
S2C Fukuoka
From the recent Fukuoka Chapter anniversary party, yet another dope FL collab featuring the atomz
Spotted these awesome denim prints as well, not too sure if they were for the same party or previous anniversaries. One thing is for sure,
very rare
.: 50 made, only 10 available in-store.
*
N7 does it better
I'm fiending for these prints done for recent commemorations:
Malcolm X,
Notorious B.I.G
and of course
Kate Moss
Help me out!
*
Youtube overload
Give it to me - Timbaland
I don't care if its a Scott Storch diss or whatever it has to do between Timba-crew and that 'piano man's circus, i only dig the sick beats
~
MadTv - TenaciousD feat. FooFighters "Tribute"
I liked the song, but just to see
Dave Grohl
hitting the skins is priceless
MadTV - i love MadTv, but more so for their musical parodies
~
Calling/Creed/PearlJam/RayCharles
Of course you know i'm a Pearl Jam fan, and i'm glad to see Eddie beating the rest up, hahaha
~
My Slump - BlackEyedPea parody
I haven't stopped laughing, check out George "breakin' it down"
*
Randomz-Ladies
Natalia Vodianova
No i have no idea who she is [other than name], but she is hot, red hot
*slurp*
~
Keeley in shower
Finally my dreams have materialised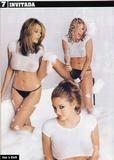 ~
dreamin' of skinny toes and dangerous nips
Last few before i hit the sack
"You sure as hell gonna click that to enlarge"
Prolly old news, and should be as familiar as looking at your own facial hair, but dayum, how'd they even manage to peek out of bras?!
Laterzzz...
footnote: just realised Dave Grohl, Kate Moss are Capricorns, like me!