a weekend:weakened
supreme*RRL*visvimFBTcl(no vis)*bapexporter*gshock haze
Nothing beats having a nice dinner with friends at the end of a work-filled week. Good food, booze (but of course), shooting the shit, surrounded by familiar faces and totally taking my mind off work and worries. Its an absolutely great idea to retreat to the pub by the seaside, at least you're away from the hustle/bustle of the city
Always lovely to see my pals i knew since uni-days, and amazing how we've managed to keep in contact through these years even though we have all chosen different career paths
*******
we are the enemy
one blog which i never fail to catch up on is
Steven's
. For those who have been involved in witnessing the rise of streetwear thru the internet ought to understand his
latest post
. Its what i've said countless posts previously and shared amongst the few other "non-commercial" bloggers [thats still left] out there. We see so many hype sites that turn into ad pages instead of the commentary they started out being/proclaim to be, sometimes i just wonder whats the point of calling themselves bloggers for.
*******
dr martens - long lasting
These ads by Doc Martens have been in the news lately for the wrong reasons. Theres been backlash about the ads desecrating the rock heroes, others even saying they shouldn't even be pictured as "angels" for their colorful and most times illegal lifestyles they led when they were alive. My opinion? What crock of stinking bull*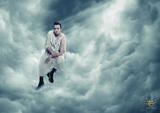 CR from L:Kurt Cobain, Sid Vicious, Joey Ramone, Joe Stummer
I can understand if these people complained the icons' images were used without prior permission; or that they wanted a cut of the profits from the ads [which i bet if they did get a sizable cut, they'd shut up anyways] I can't say for sure all of the 4 rock icons rocked 8-eyelets when they were alive or during performances, but i know alot - a whole lot of their fans did. I coveted the classic pair of cherry 8eyelet "doc marts" during the grunge years and always bugged and tried on my buddies' pairs but i just couldn't afford it myself. I find these ads representing quite well the nature and history of the boots
*******
DJ Shadow - Tapes tee
New print showing Shadow's tape collection...i like!
Out in black n' white in
Turntable Labs
*
Powell reissues
Also part of the new drops from
TurntableLabs
are more reissue decks from Powell. I've always fiended for the skull n' sword so its great to see more available! And you wouldn;t be wrong if you find the graphics familiar, Powell/bones brigade imagery has been one of the most copied/lifted graphics in streetwear.
*******
copperhead 18: Dig
Those familiar with the vinyl works of Brothersfree will know the amount of detailing and quality that goes into their products. Brothersfree member
Kenny Wong
has ventured out and doing his own projects under
Kenny's work
. Check out his latest 1:6 creation: Copperhead-18: Dig
Same high-attention to detail, the figure is exquisite
Read about Kenny in this
vinyl pulse interview
and they are available for
pre-order at Span of Sunset
*******
Kah Rah Shin!
Quite possibly the
best site of the year
so far, this kept me laughing and amused for some time. Awesome! do not miss out on the videos!
*******
Scarlett
hearts Reebok collection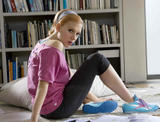 Reebok plays catch up to NB's 320 re-release; Nike's vintage running collection of Waffle trainers, LDV's etc; with their own retro release of Aztec via Scarlett's collection. No disrespect to the shoe designers, but the ad designers [and no doubt Scarlett herself] did a great job and i did not notice the shoes at all in the ads...heh heh
hearts LV collection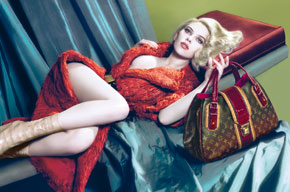 Ad from F/W 07 catalog, platinum-blonde-hotness!...and oh yeah, nice bag...heh heh
*******
Karolina Kurkova in Puma
Puma is also lucky eough to have supermod Karolina in Puma gym togs...heres her shots in a photoshoot for a fashion mag in NYC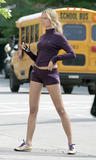 *
Randomz
Eva Cavalli
When you're the wife of one of the most celebrated fashion designers who clothe Hollywoods' most beautiful, its sometimes pretty hard to coverup your embarassing moments. Eva Cavalli [wife of Italian maestro Roberto] was caught with her pants down at Cannes Film Fest: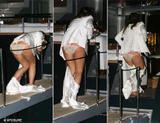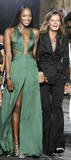 But at least she recovered majestically with a confident catwalk smile in the evening afterwards. Could it herald the beginning[or the end] of the saggy pants trend in haute couture? or a call to the fashion elite for the common sense of belts and better undies? :)
*
Posh @ Chanel
I'm amazed at her amazingly skinny pins...and that huge rock in the 2nd pic - simply unreal
*
Jenn Aniston
Some pics to remind how hot Jenn still is...
*
Jenn Love
...as is the other Jenn
amazing dress
*
J Alba - Good Luck Chuck promo ad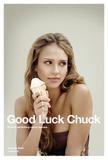 great way to round off a post, don't you think?
PS: just a shout out to all the mails regarding my recent posts, esp to Drew and rest of the crew at NB HQ, thanks for the kind words. to
Bingyan
and frenz, thanks for checking back regularly [we definitely need to do coffee soon!]
and oh yeah, happy birthday Tommy!