sunday recap
Too tired to post up yesterday, so today will have to suffice.
GDEHUK*FRAGMENT CASIO*45RPM*STUSSY DUNK
Met up S78 while lugging along his 4 bagfuls of maildrops(see post below) to town...thank god for automobiles (more thanking laters)
If you see big dude dragging a suitcase round Takashimaya-Wheelock 4 times in the afternoon(and a few more for good measure later in the evening), yep, that was him...lol Also caught up with Alex/Peaches... chilled out dude with the "junior 'fro" (yeah, i thought that up, ha). Was equally surprised that the
SuFu
kids were planning a meetup as well.
Well, Rich/Rirawen (he may be young-ish, but he's a vet like all headz should know) was popping by this part of the world on vacation of sorts, so it was nice to see the kool guy in person
Check out our
5thD
vs SuFu flick
Like S78 says: 1-0! hahaha
But seriously, i do feel old chatting/listening with them folks/kids...'specially when they were asking how did me and S78 knew each other (it sounded so gay, but we thought about it anyway)
Can you believe i was onboard SuFu since 2003? how many remembered when there was only 1 SuFu forum, and the threads did not have new posts for weeks? Oh man, its like the current 5thD! ha!
And how many knew of the fUK forum's uniqueness/wierdness of probably having the only WhatYouWearingToday thread on the internet with NO pics?! precisely! hahaha! Myself and S78 could just go on and on about it, but i guess the SuFu crowd was just a little different for me... heck, they didn't even know the almighty RiftTrooper (i know Nik, its sad) lol
Whatevs, enuff with the reminiscence...on with the lovely spread of food at
Din Tai Fung
!
Us clowning around... pics courtesy of Rich. You can fnd the funny vids if you knew where to lurk.
We had to split though, just so Mr buy-it-all could catch Garuda flight outta town. Damn, Toyata never felt so fast eh, S78? hahaha! and i've never seen a guy stuff 2 bags into a suitcase that quick - you would makea great army recruit my friend! =)
Hope to catch up again man, how about 1sy wk Dec?
---
dissertation vis(uals)
Some pics/captures off the dissertation lookbook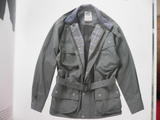 Skynard is awesome, but i think i'll avoid the cowprint; can't make sense of the Logan Lo (pls just stop at the Mids); yet more premium jackets/coats i love yet can't afford
still can't make sense of that breast patch; guess its better to stick to basics: stripes, l/s and 2ply sweats
*
Superflat Wood
Pretty amazing even one day after the news dropped about
Takashi Murakami
and MR lending their
Superflat
designs to
Supreme
It is indeed spot-on for the social-commentary of consumerism and otaku lifestyle. Just watch the hype-machine/monster roll all over this, and Murakami might even call it art! AWESOME!
*
2tone
New season drops this week... i can't wait
*
Reebok Freestyle 25th
Man, i definitely remember this...
Anyone who's a retro-head will recognise the Reebok Freestyle, and it huge impact it had on womens line of fitness apparel/footwear. In fact just the other day, i spotted a lady still walking about in a well-worn pair with her AA skinny tights and big fitness tee! I had to check my watch to be sure it was still 2007, ha!
Anyhoo, peep Reebok's print ads for the 25th
*RANDOMZ*
Renault F1 salt&pepper shaker
This one is just tickles me. Renault releases a series of home items made from used F1 cars. These shakers are made from oil filters of the F1 gear box in aircraft grade aluminum! sick
*
Kate
Love these pics of Kate by
Ryan McGinley
*
xtina
Don't you wish Christina remains 5th-pregnant always? heh
*
Vid of the day: Now That You Got It - Gwen
It grows on ya!
laters y'all