RE-
REINTERPRETATION
Warhol Factory x Levi's x Damien Hirst
now thats a mouthful...
So finally, aftr all the anticipation (all-encompassing audience of fashionista's to wannabe art connoisseurs to hypebeasts and rich beasts), and rampant wild guesses (will he or won't he add real shark skin to denim?), the collection finally drops on NYC Fashion Week.
1st impression has got to be a little disappointing for the hypesters - no animal blood was spilled nor exotic cold bloods were on the runway (but prob on the audience), which should give PETA a huge sigh of relieve. However, the collection does manage to stay pretty current, proof yet again why Levis is still feeling the denim-pulse. Couple of choice picks:
Men
A little Raw; some baring of heavy metal skinnies; and good old fades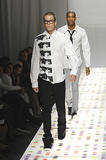 Love the printed shirt and overall fit; some overworked berms (ala Fenom); and quintessential Hirst skull bling with IT shades at the mo'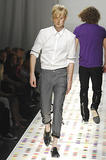 Yet more skinnies for the emo; lovin' the jac!; Warhol prints for the memories
Women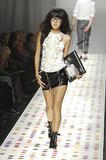 Some classic high-waist'ers (last revived by S-Jo); sexy jumpsuit (been a while since it popped up); naughty leathers (nice!)
Hirst shows he knows a thing or too 'bout bringing sexy back; again; and again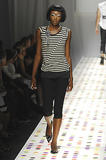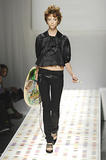 More skulls (albeit an unflattering cut); much needed stripes; love the square-cut pants (palette not included)
All in, a pretty safe collection by Hirst's reputation...But i guess thats to be expected in a collaboration with label of mass-market appeal. And plain and fair as it looks simple, i bet there'll be lots of details (wish i had the close ups) and prices will no doubt be at stratospheric level (imagine high fashion appeal with same incredulous pricing standard ala MMJ)
---
RANDOMZ
REFLASH / REFRESH
Q: What happens when you're a little chubby (chunky), dance out of synch, sing out of synch (when everyone else expects you to lip-synch anyway), and can't relate to your target age-group (they're definitely not asking for more)???
A: Ya just gotta do what ya gotta do to divert the attention:
*
Rihanna - putting the hot in pink
*
Jessica - in black and wearing a lovely smile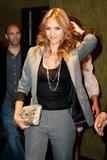 *
Tila
Tila announces new MTV reality show where guys and girls will vie for her affection (she's bi). Millions of horny teens collectively pay no heed, but just tune in anyways
*******
REBORN
Chemical Brothers "Salmon Dance"
New single/video of the new LP
A little creepy-cute if you know what i mean...
Fugu
anyone? heh
Check out how they made the vid,
via Creative Review