blackisback
Some random maildrops over the past week or so... Kostas x Supply..."welcome to the shadow"
Got a little MJ tote to erm, tote around (sorry, vocab running low)...and yep, finally found another compressed tee to add to the ape collection. I dont think it'll stay compressed for very long, just too tempting, ha
*
classic SB + tee
Nike usually tries to help kids match their SBs (to prolly save them the embarrasment of asking "what to match with my 3M/neon pink/safari print SBs?"), but most times they tend to overdo it, or the matching gets too obvious. However, while you may say the tiger print is too much in-your-face advertising; or that its no match for an authentic Maharishi Korean-style tiger-embroidery satin jacket; i gotta say, it kinda grows on you. But it probably borrows a bit too much from the
Onitsuka Tiger
promo's
*
GOODENOUGH bowl
I know this is probably just a mundane piece of furniture, but i should would like to have one as a centrepiece in my home!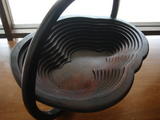 Collapsible feature actually gives it a topographical relief feel! I'm not really sure how big this is relatively, but for less than 9,000yen, it might be worth it..heh
*
RESONATE belt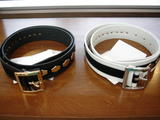 Ok, moving on from gdeh, i quite like this RSNT belt...hmmm, rockin' studs. Wondering if it'll make me look poser-ish if i pair it with formal-wear...hehe
*
Supreme F/W
More pics of the
collection
as the
afterhours market
gets underway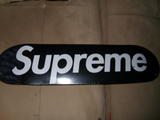 Skateheads have been asking for simple-branded deck for the longest time, and the crew obliges. That carbon-fibre looking imprint fools your eyes...its actually the "evil empire" allover stars print!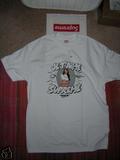 And of course, this is the
de rigeur
photo tee that sells out each season. Can't really understand the cartoony font, but hey, its Tera - must cop!
L/S constructed tee. This material appeared last season (shown by S78), its like mesh but actually cotton. Lovely print of the logo in old skool Oakley font (if ya don't know, u don't deserve that frogskin!)
*
Clarks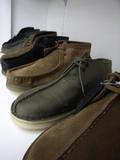 Clarks
doesn;t feature often, but i'm really curious over the ballistic nylon pair! hmm... anyone got any info about them? comfy/price/worth the money?
*
Fred Perry x Dead60s Tartan Harrington
Fred Perry
teams up with UK rock band
The Dead 60s
on a limited edition reversed tartan Harrington jacket, worn the way it used to be during the punk era. Production run of only 500 for both the red stuart tartan or monochrome Cornish tartan, they go on sale in Oct to the lucky few.
---
RANDOMZ
Vanessa Hudgens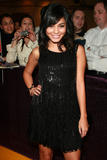 I don;t have the Disney channel on cable, but i do know she's in the
HighSchoolMusical
show. She's pretty cute
...and she's above 18, so i can show these pics of her...heh heh
but i won't show
the
nude shot, it should be easy enough to source.
THE Kate in Vogue Brasil
Lovely shots of Kate in TopShop togs
footnote
: peeps i've met and read (in emails) have told me they appreciate the girlie pics in addition to streetwear talk, much thanks for that. just glad to do my public service...LOL