on the side
Accessories actually frame up your entire look/fit, most times literally/physically, but sometimes its the personal feeling when your wearing it, but goes unnoticed by others. Its like a watch/shades/pendant that was done with a designer who's vibe you identify with: it simply finishes off the fit and completes your day.
~
Futura Lab
I previously showed the new
Futura
Laboratories pieces. Check out the accessories for the "100 icon" grafix. Gear-head get their "fixes" with the bike chain and bar cushies, while i'm liking the belt and pouch (perfect for the digicam)
*
Stussy
New season of
S2C
brings along some nice surprises.
Buffalo checks on the duffle bag. But i'm interested in the main body zips that provide additional/quick access to your stash
One of the most sought after S2C accessory is the ring. New interpretation of the "peace & prosperity" symbols...hmm, looks a little like LOTR ones eh? ha
An update of the traditional stussy skull...this time its a darker feel, somewhat like Alan Forbes' Surrender skull; incorporated on the zipper pull
And while i don't think i'll ever pull off a carry wallet, i just like it for the skull imagery and pull tabs.. heh
This "prodigy" tee print is quite eye-catching, with the vintage phrase "knowledge, be all up on it"
*
Supreme
I'm really beginning to grow into the F/W Supreme range
I've been putting off the past few packs, but i'm pretty much ready to pull out the plastic for this one. The images are tempting: yum!
Most of the Supreme accessories from the past seasons are just fun stuff/swag for the crew, y'know the carabiners, baseball bats, deck tools, lighters etc. This time though, they've got the
Maglite
torches, which really does come in handy. Nice!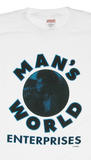 Peep the hidden print on the inside of the Man's World tee
RIP James Brown
Details on the stained glass l/s tee...
should i or shouldn't i?
"World Famous" print hoodie...something to snipe on
*******
Jordan X - Rossi PE
Speaking of accesories and side projects,
MJ
has been branching out to motorsports since his retirement. Who knew his passion besides hoops and links include two-wheelers? But i guess its MJ/
Jordan Brand's
aim to associate with winners, its the select group of individuals who belong in the stratospheric heights of invincibility
Peep JB's special make-up of AJX for 7-time GrandPrix Championship winner (including 5 straight)
Valentino Rossi
---
Sole Obsession
You've all seen the pics and coverage of the Sole Obsession meets. Check out how/where it all began, courtesy of
Eugene's
footage, with main subject, 5thD's own
Stephen/seenmy
*******
Ayu-chan's Glitter
Sure it seems like
Ayu-chan
took the script from
Mariah
and ran with it (along with the title song). But at least Ayumi is more watchable; feels more "real", plus it features popular HK actor Shawn Yue. They're collaborating on a short film "Distance Love"
---
RANDOMZ
Giselle sizzling for Bazaar
Claudia (and kids) for Glamour
Awesome shoot, reminds me of the vintage b/w Guess? ads