Product Placementz
Supz, couple of visuals to start the weekend spending...
Addict UK - 07 artist series
Addict's
got a brand new line up of their popular artist series tees:
Jago and Mode2 [my fave of the lot]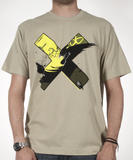 SheOne [still pushing out mind blowing strokes] and Will Barras [keepin' it simple]
Give a shoutout to the guys, their collections are definitely for keeps.
*
Devon Aoki for LevisLadyStyle
Love this set of print ads for
Levis Lady Style
featuring Devon Aoki
The Ladystyle closet in Shinjuku boasts a red carpet-like installation that gives customers a sensation of walking on a bed of roses, and the Kaleidoscope Room chaging area with mood floor lighting engulfing the room in dreamy lights, sights and sound.
4-1-7 Shinjuku, Shinjuku-ku
*
ACR F/W 07/08
Not that i feel the need to post
this
, but those in know would've known already. But if i read the mailer correctly, the clothing pics weren't supposed to be shown to public right? so what's with the
all the
coverage?
*
SoleObsession - Pt3
Part 3 of the sneak peek, check out the shoe that will be given away on the Sunday [4th Mar]. Lottery will only be available to the 1st 50, so drop by early eh? and remember to give a pat on the back for my man Eugene
*
Griffin reflect case
These
Griffin tech
cases "present a seamless, mirrored-chrome reflective face to the world -- until you wake up your player, and the brightened screen shows through the chrome as if by magic".
Plus it doubles as a vanity mirror! LOL
Laters!