New Balance 574 Hungry Dragon
NB
pulls out the stops yet again. Check out the launch of the Asia Pacific exclusive of the NB 574 "hungry dragon". As part of the push into the lifestyle market as well as an affirmation of the label's heritage in performance and design, the launch is the first regional media event [with more to come]
Designed by Andrew Nyssen, the same guy who brought you the fantastic SuperTeam33 "fish" series last month, the Hungry Dragon series will be limited to only 574 pairs per colorway of NB's famous classic model 574.
Three colorways will be released: Garden Green, Blackberry Wine Purple and Midnite Black. Each pair uses high quality oiled leather, and features a stunning fire breathing dragon embroidery that stretches prominently from the medial to lateral side of the shoe. It also features a gold-print insole[!]
Check out the finely detailed stitching and embossing of the dragon's "scales" from the different angles of the shoe. The completely full-leathered shoe complements the overall luxury look.
Tongue tag detail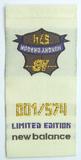 Last but not least, the look is finished off with the centennial NB logo on the tongue tag. And to make the pair even more coveted than it already is, each pair is individually numbered on the reverse side of the tag.
The collection will drop in the following countries within Asia Pacific:
, Australia, China, Hong Kong, Japan, Korea, New Zealand, Philippines, Singapore and Taiwan.
Each pair will be launched separately each week, and be housed in a specially designed box featuring the Hungry Dragon graphic.
*edit
Simultaneous region Release dates: Garden Green [March 7th], Blackberry wine Purple [March 14th] & Midnite Black [March 21st]
As part of the media launch of the Hungry Dragon in HK, New Balance collaborated with Eric Kot's RMC label [RedMonkeyCompany Jeans] and their new
ultra-luxury Yoropiko collection
by RMC designer Martin.
57+4 pairs of the special collab denim were produced, and features the dragon motif in typical RMC/Yoropiko style lavishness. 50 pairs will be put up for ebay auction to benefit Unicef. Details will be announced at a later date
[check back here]
*edit: 1 set will be available in Singapore-viewing pair to be shown in SoleObsession summit
You can check out some excellent event photos from
SneakerFreaker
.
Drop dates will be announced for each country very soon, wait for it!