1 of 792
In what is probably the quickest "cop" i've ever done, i was in and out of
LE Vault
in record 5 minutes flat [with time left for a breather]. Store display features the catch of the day, fresh out of the cooler.
Caught the Butterfly fish [gotta admit, i did hesitate for a nano-second on whether to haul in the other 2, but the wallet spoke loudest], much thanks to Team 33 at
Skowhegan Maine!
Truly world beaters. In terms of non-Japan NB exclusives, i would rate these just behind the
Crooked Tongues
collabs, nudging ahead of the
Solebox
pack even though i'm a huge purple fan! [sorry Hikmet]
*
Flicks of interest
Caught this couple of movies during the weekend:
Banlieue 13
simply rocks as a movie to kickoff the weekend. Having been a
Luc Besson
fan, i'm delighted with this follow-up of the
Parkour"
theme. After flirting with the beauty of Parkour in Taxi 2 and
Yamakasi:the last samurai
, Besson decides to go full blast with Parkour founder David Belle in the lead. Simply breath-taking stuff, you just gotta see to believe.
I paired it with
Y Tu Mama Tambien
. Its the 2nd time i'm watching it since the release, and i love it even more. Something about Latin women and movies turn me on i guess. Or it could be that i'm feeling old and thinking of lost youths...hahaha
*
Visvim Kiefer Hi x Mastermind Japan: DPM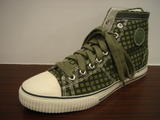 Visvim collaborates with Mastermind yet again, this time on the Keifer Hi. Piqued my interest at first glance since its DPM. Seems only the desert camo pair features the MMJ skulls [i could be wrong]. The signature heel zip is a still collaboration mainstay thankfully, adding more strength to an otherwise pretty straight forward 'do. The desert and night camo pair could've been better done, for those who've seen the actual deal for the Gulf patrol know the desert sand/storm jkt is reversible to night camo. If only the inner lining of the desert camo featured night camo fabric...that would be killer
images via star-J
*
Rihanna at the beach
I know lots of peeps find her hot, so here's pics of Rihanna at the beach, in a striking bikini.
I don't know, the pics remind me of the atmos Beast pack:
LOL [damn, my brain is overflowing with sneakers!]
*
Soph - love RB
Anyone has a hookup for this tee? i'm feeling FCRB lately
*
Randomz
Eva Longoria for ARENA mag:
Probably as close to naked as you could wish for
Ditto for Gisele: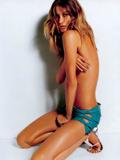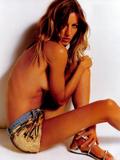 CYA laters