chronic
It's almost impossible to pin down the exact reason, but i bet the medical term has to be chronic-something to explain my behavior. Is it chronic fatigue that makes my eyes Garfield-like at just 11pm at nite, that leads to a chronic-procrastination in my job-hunt? Is it the chronic-urge-to-spend that makes me break the bank time and again? Is it the chronic need to release the headaches at work?
Started the week with yet more workloads...i seriously can't see myself staying for much longer at my current workplace. Lack of proper job description is one thing, your boss handing you some half-day/half-hour projects on top of your normal projects is simply nuts. So i get a headache and i do what i unconciously always do -rub my temples and nose-bridge. Lo-and-behold, i get a silly welt-mark on the nose bridge:
Now i know how Brad from
Survivor Cook Islands
felt:
Had a beat-the-clock meetup with S-78 later that evening to pass him his stuff before he flies back to Indo. I must have looked like an idiot with a
Bindi
Too bad he missed his Gonz "communion priest" which arrived a couple days later:
Now i know why it took so long to get here...the parcel was "missent to Bangkok"! I can understand if misinformed people mistaking Singapore for being a southern province of China, but Bangkok's a first, hahahaha.
*
mail drop
Yet more drops recently from my chronic-spenditure:
Out-of-print Electric Cottage tee, this one is definitely for the archives
And yes, the inescapable shot of the proverbial sleeve tag thats covered round the street fashion world. Like Henrik [artoo] mentions in the latest
streetwear today
, HF was the one who introduced the sleeve tag to street fashion and never got the recognition for it.
Probably the final piece of my NikeHK x Michael Lau hunt, since the possibility of me getting/able to afford a pair of the woodgrain SB's is 1 x 10[power of negative6] - [thats about 1 in a million]. Copped the lucky-red NY Fat and catalogue book
Masterstroke of marketing genius by NikeHK to get
Michael "father-of-urban-vinyl" Lau
to brand their flagship store and push yet another marketing angle towards the vinyl,toy-crazed community. I figured the NY Fat should come in handy as part of the upcoming Chinese New Year docorations, LOL
The catalogue features huge studio shots of Lau's iconic 12inch figures dressed in Nike's F/W 06 line, each one is a tear-out poster! Check out new 12inch addition #106
Pre
and Michael himself.
*
mango
I don't feature foods in my blog like
Tommy
or
Stef
does. I don't think i could stop and freeze-frame in time: more often than not, its in my tummy before you say "cheese" [pun awfully yet fully intended].
I guess it should be the season for mangoes this time of the year, cos most i've eaten so far are deliciously sweet! Check out how i;ve faithfully recreated the restaurant-style way of serving it by slicing it up, that way u can eat it like a pudding! hahahaha
*
randomz
Manuella plush
These ele's are just too cute to ignore. Creator Merav Flam designed them to reflect her own childhood without digital and electronic toys.
Check it out
via NotCot
*
virtual keyboard
I've heard so much about this virtual keyboard, and i'm just putting off trying them out while waiting for the price to drop. Basically, the laser projects the keyboard and sends out the tapping[it even mimics the sound!] via Bluetooth to the and electronic device like PC, laptop, palm etc. You can find one from numerous online sites,
like this one
Kern zip up
This had me in stitches. If you know fonts, you know
kerning
, and you'll flip at the little details on the sweat, especially when you zip 'em up!
Font-stitches : Kern-zip up
Damn, i'm good with puns today
Get the lovely sweat at
Veer
*
Cameron Diaz on holiday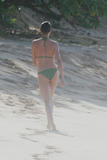 So Cam and JT split and had a bad falling out at the Globes, but nothing soothes a broken heart like spending time at the beach.
Even spotted Eddie Vedder[i'm a huge PJ fan to those who know me] amongst the crowd. Heard he's a close buddy of surfing pro Kelly Slater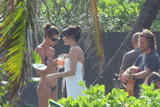 laters