summer.sale
Check out
Tommy's
summer sale now on, with good reductions on Hyde SK, Milkfed and Xgirl items
Footpatrol has an upcoming footie sale as well...don't miss
And if you are in the states, check out the free shipping within continentel US promo by
turntable labs
If you're in uk, Fourth Chamber has some choice reductions in
Surrender
tees and denim (yep!)...some drops in
Franklin & Marshall
too.
nice UARM tees (L: "alot of art is boring" by Ryan McGinness. R: "Evoluchion" by teh "Gonz".
Peep more niceties here
I like this Jill Bliss "undersea" tote!!
Go visit
Day-Lab
for more, including this:
Brice Bischoff "animal" postcard set!
Commonwealth
has the full set of Victorinox Urban Survival kits online!
*******
Lovely and well thought-out line of ads for Lego.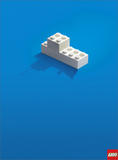 Something so innocuous that can turn out to be so much fun.
*******
whoa
Lovely print work by
Hiroshi Tanabe
.
get the book
.
link via the apt