This is gonna be a fun post for the day
Folks in France sure are gonna have fun
The geniuses at
Project Blinkenlights
have done it again...if u happen to drop by the Bibliothèque nationale de France, go play Pacman, Tetris, Pong or Breakout
on a building
. This follows their absolutely mindblowing debut in
Berlin a while back
...they;ve even been featured in Kylie's MV for "can't get you out of my head".....
Na-na-na,nana-na-na-na...
I've never been a fan of the Star Wars Prequels of Episode 1 and 2...but i adore the original trilogy, and this abso-f**king-lutely takes the cake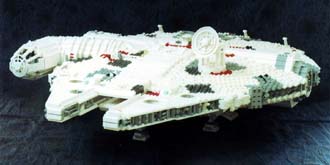 Trilogy done in LEGO!
Maybe its a sign i'm old, but i sure do remember some of the toys in this list
Top 100 toys
But this one caught my eye...hehe
No. 41
simonsays: anyone actually has this toy? pls sell me!
Yet another list, thankfully it doesn't make me look old...
Top 100 singles for the new century
While its more hip-hop and mainstream biased, it sure does serve as a good list of songs u should have on your ipod or ripped on your pc(if u haven't already) =)
Those
fake jelly kelly/birkin bags
are a dime-a-dozen on the streets for the longest time(since 2003 in fact) I do like them, fresh, young and very fun look to it...however it ranks the same as those transparent/translucent fashion throw-it-all-in bags that girls love so much. Sometimes u just forget what u throw in...like maybe
gasp
a pad or a tampon. Thankfully a condom isn't that bad...like Hilary Duff's
problem is, i don't think she's legal yet.. hehe. On a side note, Trojan is sure to love the publicity
The 29th Superbowl is tomorrow(or tonite in US)...ah, the macho-ness, pumped up atmosphere, creative/controversial ads...plus, the Simpsons will be on!
guest starring Warren Sapp(NFL QB), Tom Brady(NFL QB), Michelle Kwan(figure skating hottie), and get this: LeBron James and Yao Ming...
u have arrived, big guy, u have arrived
Funny coincidence i guess, but the Superbowl every year precedes the Chinese New Year of the Lunar calendar...yes... its that time of feasting and visiting relatives, but most importantly,
no work
. Feel free to sponsor me clothes and shoes though, i'm always open to offers =)