to a T
"GoodMorning" towels are usually used in old-fashioned hair salons here in S.E.Asia, simply coz its cheap and does what its supposed to do. Its also a pain to get it back to the original whites when you think about the type of coloring/stains it gets up to in its daily use. So if you spot a salon having spotless clean white towels, you know someone's been working to their knuckles doing the wash. These days, we put 'em thru different uses
Tommy
uses hers as a tea-towel, i use 'em to clean my sneaks(!), not everyone has freebies from
Jason Markk
y'know (though i wouldn't mind a set!
big hint alert
)
*
supremo
This jersey's been getting lots of love lately. Weather's been gettin' crazy as usual, with 35Celcius on one end and torrential rains within the hour. Thank god for
Ed Hardy's
ingenius armpit vents and oversized jersey cotton: its excellent for equatorial weather! plus don't you find Ed's upside down pose strangely intriguing?
*******
the new Mr June is born
I hate it when i miss excellent bball games while i'm at work [damn you, global time-zone!], but i'm so glad for the net coverage. LeBron's on LeBrink of greatness [pardon the pun, it just slips out], everyone should go check out the
historic Game 5 against Detroit
. Lots of video clips over there, but make sure you watch "Inside NBA" with Chuck and Reggie. Chuck:
he's [LeBron] a raging inferno, i tell you, on FIRE
!"
Man, he was hitting them shots with hands in his face like shooting through a barnyard door; side-stepping and throwing tomahawks not once, but THREE times in clutch; double-teamed 3-pt
jumpshot
, the list goes on. Final scoreline? 29 of the team's last 30pts. I think i saw Jordan on the game-winning improbable lay-up through 4-man traffic
'06: witnessing the beginning. '07: overcoming the Detroit hurdle
And beat Detroit he did.
Game 6 just ended,
and as Chuck and Reggie rightly said, LeBron need not play well, the rest of the team will bring it home. Cavs in the finals, who would;ve thought? Thanks LBJ, for setting the Finals alight and finally come alive.
*******
Monocle #4
New ish drops before i even finish the previous...yet again [damn i gotta work on my reading speed, my attention span is gettin' shorter!]
Seoul's school of modern media
: cover feature on Korean companies revolutionising mobile communications
shots of Home Office setups
"the travelling women on 19A"
: aisle-fashion never looked so sexy
"man about Marseille"
: practical yet stylish looks
write up on Basel's timepiece heritage
lovely shots of Fujiya Inn
a good follow up to
WallPaper's
teaser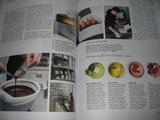 Patissier with a Japanese twist
: Sadaharu Aoki's concoctions rule Paris
Go get a copy
, or better yet
subscibe
to avoid missing an ish
*******
2K Gingham
2K's collective of tees can be considered timeless classics: they are never out of fashion. Peep/buy the tees at
Turntable Labs
Geoff McFetridge
Peep Geoff's new works, incorporating cartoony images into his themes. Restocking also of his iconic "i'm rocking on your dime" print [like i said, timeless prints]
"Street Thing" by Michael Leon
I almost thought its a collab print for
StreetThing
, but i guess not, heh heh. I love the "stealth" black on black print though, killin' it.
*
Nexus7 MalcolmX
Yea, y'all know about the N7 prints lately, shit's blowing up all over hype world [where were the hypesters 3 or 4 yrs ago?] Anywho, the Malcolm tee is rockin' with the glint in his eye, and its a perfect match with the N7 "MalcolmX" frames.
*******
Randomz
Kungfu Kid incense holder
Sure, you got ya
Kuumba's
going on, but take it another level with this holder from
wrapables
. cute
Oreo wafer sticks
I'm addicted to these things, light on the taste, yet easy [not guilty] on the chocs. I got a whole box of them...hahahha
*
Jamie Hewlett promo train-art for "Monkey King"
Try to spot
Jamie's
rolling artwork if you're in UK this month.
Featuring 9 carriages and 90 images, this Virgin train was worked on by Jamie Hewlett and grafitti artist Chu.
Catch the train on the London-Mancheter route
4 times daily
Monkey - Journey to the West
The famous Chinese Literature work on the
Monkey King
and his
Journey to the West
has been adapted by Chen Shi-Zheng, design and animation by Jamie Hewlett and music composed by Damon Albarn [both artists behind
Gorillaz
].
This circus opera will premiere at
Manchester International Festival
. Now thats what i call a power collabo!
*
Honeyee blogs will be back up on 5th June
fret not beasties...
*******
Ladies
Petra Nemcova
Good old lovelies
Recent hotness...not only is that a short short dress, i think its hiked into her panties! *slurp*
laters