slow burn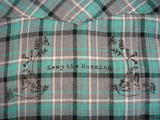 Its been an interesting week to say the least. Much of it reason for the delay, so fret not, i have not forsaken this blog. Started out real slow [almost like a drawn out hungover], with a couple of spikes here and there, and of course finishing with a flourish. I think "slow burn" just about sums it right. First up, THE Grail showed up and i have to say, its worth the l-o-n-g wait. Buttersoft uppers, and you know i just had to feel up the nubs on the ostrich skin hahaha [i know, i would've felt better had i been talking about a lady and not a shoe haha]. I've been telling anyone i'm outta the sneaker 'game', but grails keep hauling me back. Just like what GDEH prescribes..."keep the humming". Word
*
post up
Rushed out EMS for net-hype king [if anyone asks, thats my new nick for him] S78. Should be sufficient dope to sustain several trend-setting posts, eh? hahaha
Catch up the next time you do the fly-by holmes!
*
exposed
Had a health-scare mid-week. Yeah, serious enough for an xray...but lucky me, turns out to be just that, a scare. And i do hope 2 consecutive xray exposures do no harm to me bod, but if it does, well, i'd say its worth it..heh. Keeping my fingers crossed, career scope could have new developments as early as next week.
*
streetthing x soleobsession swapmeet
Unfortunate i couldn't join the
brothers
on Saturday.
kizzit
and co's been really nice to extend the invite, but my Saturday schedule became hectic and had to give it a miss. We gotta do the leather-sniffing and boozing another time lads, fo' sure.
Picture above are tees done by soleobsession crew...sorta matches my exposure eh? haha
*
do the 'Que
bape x wtaps. wtaps bdu.htm mocs
Rounded out the good week with a BBQ - Dutch/European/S'pore style:
Otah
, spicy wings, lightly salted fillet, beef steaks,
bratwurst
, washed down with
Grolsch
, a mix of Cabernet Sauvignon and Shiraz, finished with lots of pineapples [Dutch love 'em to bits] and
stroopwaffels
!Any Dutch experience aint complete without stroopwaffels, who needs marshmellows over open fire? haha
That said, it was literally a slow burn, building up to huge flames and me burning up not quite a couple of burgers [i'm normally pretty good at this, pure accident, honest]
Summer's warm and humid as hell for a BBQ, but nothing beats kicking back and touching base with good wine and banter. Pics are in another cam, will prob add on when i get the time.
*
mornin' after
stussy x invisibleman.'47 southwestsoil.gshock haze.NB586
Woke up to a woozy Sunday, don't think my brains have quite caught up from Saturday nite's alchohol. Went to catch
Shrek3
. Gotta say, while it wasn't absolutely the best, it was great enjoyment to watch all the fairy tale/disney references.
Had a short walk along the Orchard stretch. Short is due more to human traffic than things to shop. The Sale is definitely in full effect, judging from the bulging bags outta Prada [nice heels], Gucci [usual off-season wierd colors] and line after lines outside LV.
*
Kate Moss does Summer
Topshop stock Kate's S/S 07 line...check
them out here
*
Visvim Logan Mids
I find these Logan Mids hotter than the usual highs...hook ups anyone?
*******
Randomz
witness
2 lovely desktops i'm currently rotating.
via
*
Ana Beatriz Barros
Hotness
*
transforming Megan
I've no idea how she turned out so hot...I know what/who i'll be concentrating when Transformers opens later this month
*
to end...
This was a good prelude to the weekend:
Anger Management
thanks
Steven
laters