Its been hectic
In what is to be Part 2 and 3 of a crazy month of sneaker-freakin', check out what came in: wooly mammoths!
Hideout Woven Footscapes
These monsters came in pretty nondescript packaging. Really love the hamster-ish feel of the outer! Peep the pink leather insole, like the belly of the hamster! Ive no idea whether they pair up nicer with shorts or dirty denim, prob the 1st choice.
Fraser's hair-piece or not, i think hamster suits them just fine. Props to you-know-who for picking the colors/materials from the mundane pantones!
*shhh: when nobody was watching, i actually pet them...
Pity about the packaging though, i expected double-boxing, tsk.
*******
New Balance "Jacket series" 576
An even furrier counterpart crept up on me this evening. In a rendition of the iconic MA-1 aviator jacket, this pair caught my eye right away with the spot-on fur trim! Ultra comfy that i've come to expect of the 576, the fur-line wasn't hot nor "ickey" when worn. I can see myself rocking these babies. Butter!
Props to Mr A for the lookout
They are out in the usual
local spots
, along with the "Action Series", with colors similar to the 1st Crooked Tongues release (did C-Law get a cut?). They are named by their Chinese characters on the insole "Rush, Run, Chase and Jump".
More to come are the Japan exclusives 999, 998, and more 574's (especially with the centennial). Peeps looking for hook ups, you know the drill, my mail addy's on the speed dial.
*******
utlity
I'm feeling this just released Stussy utility pouch. Lots of uses to boot!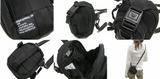 Anyone able to hook me up with one? hit me up
*******
headline shirts
Not to be confused with local streetwear label HDLN, this label is from the USofA.
I like the well-thought-out messages on them:
Pulled on American Apparel tees, they have been apparently vintage-treated to be super-soft!
Check out the inner label:
Go check them out some more, cick here
*******
lets play
Sneakerplay
just went public! (sort of)
In an attempt to whet your appetite at what goes on in the Beta-release of sneakerplay, you get to view the battles, browse around the various members and buddies' kicks collection. I'm still a n00b in there, but holler at me for a chat/fun sneaker battle some time!
I got 5 invites to give away, so drop me a mail!
*
penny-for-your-rant
i'm not an elitist but it irks me when i see reseller's pics.
its only 2nd to seeing pics of fakes.
Whatever happened to the tight community of hook-ups and friendly exchanges of thoughts, stories, info? Could it be true that all this changed in a matter of time less than a nike retro?
sighs
*anyways, i'm off to dream of hamster and chinchilla's. laters