"...everyone wants to be *us*..."
Caught
"Devil wears Prada"
yesterday. Funny little movie, i probably enjoyed a little more than my partner...heh. I was spouting all those movie quotes and irritating the life outta A. I guess alot of movie-goers came away thankful their boss is not that demanding as Streep's character, damn, she's the definitive ice-queen on celluloid.
The 2nd pic? Nah, nothing political or religious,
just coincidence
=)
graf-RBI?
Managed to pair up a 'fit for the movie: F2K/Stash Hawaii 5-O with a dash of Haze G-shock. And yes, i managed to make a couple of kids do a double-take at my Supreme downlows...again. It gives me a tingle down to my twinkie toes when i get that. (yeah, i'm officially nuts)
*******
the beaver can hold its breath for 45minutes
Yet another sign that i'm really bored at work, i've compiled another couple of
Snapple
caps for ya. Thought of a really funny smellybeaver joke, but you guys should be able to figure it out anyways.
*******
permafrost
I don't normally post up ID stuff, coz theres simply too many to pick up. But this one left me tickled. Check out these lovely carpets by
Permafrost!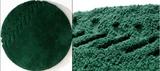 The green features the signature John Deere tractor tracks and the white - fresh bunny prints! Ha!
*******
newsflash: neon will hold center-court 06/07
Its official, the ATC will be retroed. And from the looks of James Blake recently, those crazy-colored-neon-graphix apparel
ala
Andre Agassi will be back too!
Not sure if wearing apparel will channel inspiration greatness to the wearer (collective "OMG" from millions of Jordan fans), but i'm sure James is just a fan like all of us. =) Props to "seaskull" for the vintage Agassi ad scan. I have that Oakley M-shades...scary
*******
skully-wonder
Now i'm sure most of you guys read about the
"Animatus" exhbition by Lee HyungKoo at the arario gallery
(from the various hype blogs that simply cut-paste-transfer ala carte)
Impressive work and all, but i posted about
Michael Paulus' awesome work on Skeleton Systems
not too long ago.
So who came up first with the idea? (i meant the skull idea, not the state of blogging)
*******
feelyourboobies!
Tee-prints and buttons among otehrs to help spread the message: "
Feel your boobies
" ladies!
*****
DSM Tokyo shaping up nicely
laters, ta