TheLastStand.'zine looks
Funny how quickly the weather changes..an hour into the drive to town, it starts pouring. Maybe it was Storm at work, heh heh.
X-Men 3
was pretty entertaining, successfully encompassing quite a few of the popular storylines from the comic book. It was a nice change to finally see the Danger-Room and Wolverine's white-fury in action instead of the safe-for-kids genre in the previous offerings. It was also a very good take on the "cure for mutants" line. It could have gone the cheesy way or over-done with an Oliver Stone kind of high-handedness. It brought across quite well the scriptwriter's focus that could have meant racism or homosexuality in today's world. Well, to me at least. In any case, it is still a bona fide summer movie.
Wore my toasty "Iceman" jacket to the theater. I swear, i didn't buy it for the movie, although a couple of kids probably thought so. When i first bought the Nike White Label jacket, i thought there'd be a wider release. Guess not.
Sneak-peek at my Muji dot-dot boxers, heh
*
Some Magazine looks from my bounty last weekend:
XLarge looks refreshing this season. Great to see them incorporating the polka dots into their line. Check out the Gravis flip-flop collab...essential.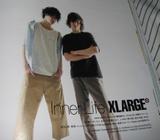 Glamb is coming across very cool in this editorial. The "loony tunes x last supper" tee on the dude is absolutely fantastic. I did kinda enjoy the
critic-proof DVC flick
last week, and so was surprised and delighted to see it on a tee print.
If anyone else knows who this lovely sweet babe is, please direct me to her photo galleries, she is
hot
!
Streetwear trends...(in case you haven't alrady known)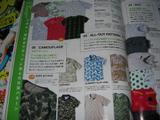 Hot
Monograms
(Sophnet, Polo Ralph and Stussy take the front-line charge);
Skulls
(PLGLEG- how cute and FCRB);
Dots
(Resonate rules undoubtably);
Camo
(Flaph ala Futura Labs) and;
All-out Pattern
(stussy always comes up big)
I like Nigo's write-up for "girls on Bape" for CoolTrans...mostly coz of the babes (obvs)
The tee is a lil' distracting though...just wished it wasn't so obscenely priced.
ciao