Lost
Been isolated from net-life for the past 2 weeks. Frankly, its getting on my nerves, not being able to surf when i've paid the subscriptions...pfft.
Not much going on latey though...got some nice pickups which i'll post laters. Heres some stuff lying on my desktop:
In case you don't know DJ Muro, he's a hip hop artist in Japan, popularly known as the "king of diggin'", and part of the world wide stussy crew. Not just anybody gets a limited print from stussy, ya dig? respekt.
Supreme drops
And hip hop aficionados will know
Charlie Ahearn
. Peep the photo crews by Charlie and new Supreme crew titled "Occulus".
Probably anything Supreme sells these days. So erm, paranoia camo
pencil cases
anyone?
S2C x undftd
- skull rulez, nuff' said
*******
Bape Max
Not that i'm liking them. Overdone, i like mine chewy and a little raw, thank you.
*******
number (n)ine 9th anniversary
I like the Jap reference on this. For those still clueless, the cartoon cat in the tee is a "lucky cat" frequently placed in store-front of retail shops in Japan and around Asia. It is suppose to symbolize the cat reeling in the business when it waves its paws. Cute
*******
Caught the summer's 1st
smash-bang blockbuster
a couple days ago.
Surprisingly entertaining and gratifying sequel i must say. Much props to be given to JJ Abram's directorial debut. He justifies my devotion to the
Lost
series by employing the same excitement to the big screen. But then again, there is another reason for me to watch MI:3
How hot is she in the Gallardo scene?
some "oops" pics for the geeks
*******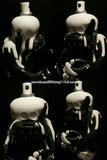 BXH drops a "spray Kun". Imagine a salivating Nik =)