u talkin' to me?
Had a pretty relaxed weekend for a long while...just rest and more rest, which is fine by me :)
Last friday was the Massacre party, for 50Cent's album launch...it was also a sneaker event for LimitedEdition. Props to the crew for the arrangements, had a nice time(especially the free vodka's, lol) I promised pics of my customs, so here they are:
name: Massacre/Redemption
original shoe: New Balance BB585 sample(soon to be released in April)
Massacre (Left shoe)
Redemption (Right shoe)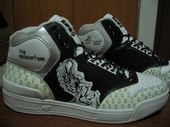 In case you are wondering, the front toe box and heel cap are "glow-in-dark"...yes they do work, just that i have not figured out any way to take pics of them(grr). Anyways, even though they did not win the top prize (not likely, since i'm using a NB shoe for a Reebok-sponsored event hehe), i'm very pleased with 2nd place. Here are the rest of the shortlisted participants
Props to LE crew for the support of the local sneaker scene!